Esthetic Accents Brings Mass Customization to Architectural Stained Glass

A stained glass door produced by Esthetic Accents using their custom bevel system.

2005-06-02 - Portland, OR, USA: Esthetic Accents, a Portland, Oregon-based manufacturer and seller of architectural stained glass, unveiled its new customizable stained glass range at the Hospitality Design 2005 Expo and the 2005 Kitchen/Bath Industry Show, both held this year in Las Vegas, Nevada.

The firm has created and designed an extremely durable form of stained glass that can safely be used in windows, doors, sidelights, shower and hot tub enclosures, cabinetry, gates, balcony and stair railings; it can also be incorporated into walls, partitions and casework. Because each piece is a custom design, themes can be continued throughout entire rooms and structures, matching doors and cabinets, sidelights and windows, or garage doors with front gates.

EA offerings allow much more design freedom than is possible with either artisan stained glass or mass produced design elements. Most often, artisan stained glass creates designs using stock bevels and bevel clusters that require that the design be developed around the bevels. However, Esthetic Accents is able to create custom bevels, both clear and colored, eliminating any limits on the design process.

Making a strong impression on the attendees at the trade shows as well as the industry media present there, the new company was one of four singled out for special coverage by Las Vegas television station Fox 5 for an in-studio visit. The segment featured new products that add color to home improvement projects without requiring extensive renovations. The products were selected from more than 1000 vendors with booths at KB2005.

Visitors to the Esthetic Accents booth were impressed by the versatility and durability the company's custom stained glass products and were surprised by the line's affordability. Visitors to the EA display represented some of the leaders in the commercial, design, hospitality, and home building industries. Among those particularly impressed by the products on display at the EA booths were representatives for Applebees, The Marriot Group, and Architectural Digest. One visitor, a specifiers for a leading national restaurant chain, commented: "Wow! We've been looking for something like this for more than two years. We want to match motif for over 100 restaurants and this product makes it possible."

According to Mary Spear, co-founder and CEO of Esthetic Accents, "We have traveled the world seeking and developing the manufacturing process that allows our unique approach to the marketplace. The technology is now available to take custom architectural stained glass solutions to a new level - and at extremely affordable prices. No one else is doing what we're doing."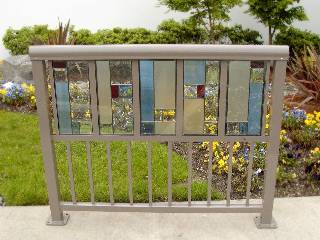 Another example of Esthetic Accents work, this time a stained glass windbreak.