Velocity Micro Introduces AMD Athlon(TM) 64 X2 Based Systems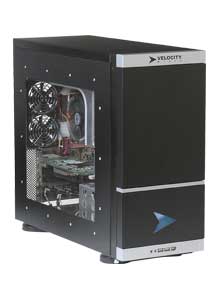 The Vision(TM) A/V/D, one the Velocity Micro computers that are the first to be equipped with the AMD Athlon(TM) 64 X2 Dual Core Processor.

2005-06-02 - Richmond, VA, USA: Velocity Micro(TM), a North American manufacturer of high performance PCs, announced it is a launch partner of AMD's (NYSE: AMD) new dual core processor technology. Velocity Micro will be one of the first PC companies in the world to create and ship systems based on the new Athlon(TM) 64 X2 processor.

All Velocity Micro products are built to order with numerous optional configurations, and direct factory technical support is available 24/7 by company technicians located at the company headquarters in Richmond, Virginia. The company has won dozens of industry awards including a prestigious PC Magazine Editors' Choice Award for Best PC of 2004.

"Velocity Micro is honored to be a launch partner with AMD on this exciting new dual core line of processors," says Randy Copeland, Velocity Micro President and founder. "We have always been proud of our close relationship with AMD and we're excited to partner with our friends to introduce this heavily anticipated technology to our customers."

This launch partnership reinforces Velocity Micro's first to market leadership in the PC industry. Velocity Micro's close ties to AMD among other technology leaders has enabled it to consistently be among the first PC companies in the world offering state of the art technology to it customers.

AMD's dual core processors have two processing cores on a single die -- effectively making two processors in a single chip. Each processing core will handle a separate stream of data. The key target audience for Athlon(TM) 64 X2 will be PC enthusiasts who max out their current processing abilities with multitasking and digital media work.

Velocity Micro will offer three Athlon(TM) 64 X2 based systems to start with: the digital media prosumer Vision(TM) A/V/D, home office Vision(TM) 64 system, and the professional workstation Vision(TM) W310, featuring Athlon(TM) 64 X2 4220+, 4400+, 4600+, and 4800+. The Athlon(TM) 64 X2 will give substantial performance benefits to Velocity Micro's core constituency of digital media enthusiasts, who can expect to order systems from Velocity Micro's new line of AMD dual core processor based systems at velocitymicro.com in the near future.