Endica Increases Competition in U.S. Personalized Postage Market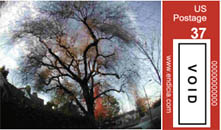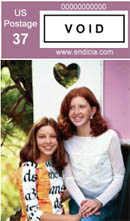 Examples of personalized stamps from Endicia

2005-06-15 - Palo Alto, CA, USA: Internet Postage service provider Endicia(r) has recently announced the availability of PictureItPostage(TM), a customized postage solution that gives customers 46% more space for their images and more personalization options. This new development reflects increasing competitive forces in the personalized postage market, since the U.S. Postal Service invited new applicants for the system earlier this year.

Customers can turn their letters and packages into personalized works of art with PictureItPostage. Customers can upload their images, for example a colour photograph of the happy couple for a wedding invitation, or a snap-shot of the family for the Christmas card, and order their stamps immediately at www.PictureItPostage.com.

"Individuality is prized in our culture, and personalization is the ultimate expression of that value," said Dr. Harry Whitehouse, CEO of Endicia. "The combination of our customers' endless imagination and our extensive experience in postage printing and regulations, is bound to create some of the most beautiful expressions in the mail."

After the customer uploads an image to the website, they then use a simple interface to select the orientation of the image, choose the denomination of postage, crop the image, and pick the stamp colours. The new stamps, printed 20 to sheet, are shipped to the customer within 10 business days. Unlike competing services, PictureItPostage allows the customer to choose between portrait and landscape orientations for their stamps, and provides 46% more area for the customer's image.

Endicia's stamps feature an elegant serration design on all four sides of the stamp, and customers can pick any colour from their image to server as the background.

Endicia was originally launched in 2000, as an Internet Postage service that allows users to print complete, postage-paid envelopes and labels for domestic and international mail. Endicia's shipping labels include discounted Delivery/Signature Confirmation, discounted private insurance and hidden-postage amounts.

Endicia recently received authorization from the U.S. Postal Service(R) to begin a one-year market test of PictureItPostage starting on June 2, 2005. Content guidelines to meet the requirements of this test are posted in the Terms and Conditions at www.PictureItPostage.com.

Interested in personalization? Why not have your say in the Personalization Forum!