New Automatic Customized Watch From 121Time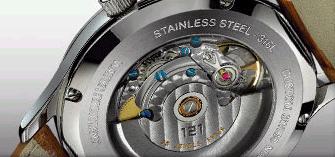 The movement mechanism for the new 121Time automatic mechanical watch, shown through the transparent back

2005-06-29 - Martigny, Switzerland: Custom watchmaker 121TIME has announced its first model with automatic mechanical watch movement. 121TIME has selected the Swiss company ETA, which has a track history of excellence, to provide the watch movement.

The automatic mechanical movement manufactured and refined by Soprod on the basis of the ETA calibre 2824-2 is of very high quality. The signed and decorated flywheel with blue-coloured screws adds a special touch, while a sapphire crystal viewing window over the steel base, which is screwed on in four places, provides an interesting insight into the inner life of the watch. A 40-hour power reserve ensures that time will never stand still even if once in a while you are not wearing the watch.

The automatic watch movement can be combined with all the 121TIME unisex models. On the website there is a new collection of watch faces with an attractive selection of designs and colours that have been created for the new watch movement. Extra impact is provided by the second hand, which is available in red, orange, yellow or blue. The present delivery lead time for these watches is 30 days.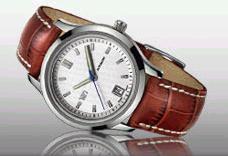 Front view of a sample 121Time automatic mechanical watch