Shirtcity Launches in British Market with Shirtcity.co.uk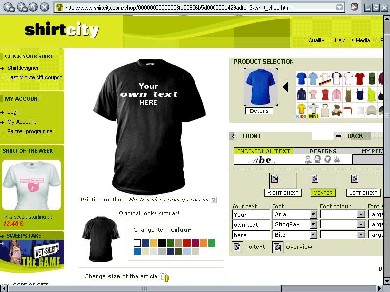 An image of the Shirtcity.com homepage

2005-08-08 - Neu-Ulm, Germany: Shirtcity.com, a custom maker of t-shirts and other products based in Germany, has expanded into the U.K. market with a dedicated Shirtcity.co.uk domain. The Shirtcity.com business already has sites in German, Dutch, French, Spanish, Italian and English languages.

Shirtcity promotes clothes not just as item of use, but as a personal medium through which anyone can communicate their opinions and represent the self. In the words of Shirtcity, 'Fine feathers make fine birds. Here one creates his own feathers and defines his own self'.

According to the motto 'click your shirt', the users can design and print whatever they want - be text, design or personal picture - on a t-shirt or on one of the around 30 other items that are on offer in the shop. The users can see a photo-realistic preview of what their item is going to look like. Ordered products are ready for delivery within 48 hours.

The new service is being targeted in the U.K. at the general youth market, and also at the music or clubbing community, political or social campaigners (whether professional or amateur) and everyone else who is interested in having their own customised clothing.

With their original idea, IDCOM, 'the idea company' received significant media coverage. MyShirtcity.com gives everyone the opportunity to open their own shirt business with their own design collection from home on their website. This process is known as 'micro-manufacturing', and has seen a numbr of competing companies become established in Europe and the U.S. in the last 2 years. The shop can be adapted to suit the design of the partner site easily and one can set their own profit margin (usually of approx. GBP5-6/item). Similarly to other providers in this marketplace, there is no start-up cost, and Shirtcity is doing all the processing and manufacturing. Shirtcity's largest partners include GMX, Cosmopolitan and Bigfoot.

A related site, ShirtcityClub.com, is the Shirtcity community, in which customers show what they have communicated through their shirt. This community currently has almost 10000 members. The users can rate and comment on each picture and exchange views in the forum.

Another 'interesting' online promotional activity is 'the wet t-shirt game'. The nature of this game is easy to imagine. Players who get through to the end of level 5 receive a shopping voucher forShirtcity.co.uk.