Bringing Home the Holograms
2005-03-03 - Newport, Va, USA: An interesting new idea for producing holograms using simple equipment could be used to produce custom made holograms at home, and may also have potential to enable businesses to offer products with personalized holograms incorporated in them.

Litiholo, a division of Liti Holographics, Inc., has made holograms so simple you can make them in your own home. And while the concept of a holographic butler is still not possible, the Litiholo Hologram Kit does provide everything you need to make real holograms, including a new film material that develops the holograms "instantly." The Hologram Kit retails for $139.

"Many people still believe that holograms are only possible in movies or on credit cards," says Paul Christie, president and CTO of Liti. "We wanted to break that barrier." Christie mentions that since the launch of the Hologram Kit just before Christmas, they have shipped hologram kits all over the world, with people using them for science fair projects, general tinkering, and educational family time. "It's a lot of fun telling people that your family spent the weekend making holograms."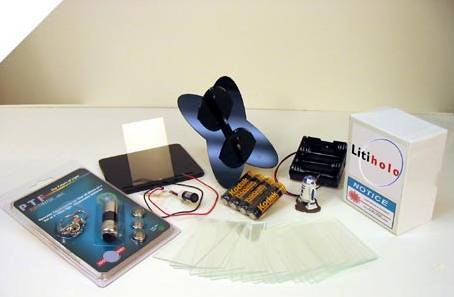 The Litiholo Hologram kit

Founded in 2000, Liti Holographics creates leading-edge hologram and 3D technologies for the consumer and commercial markets. From hologram kits to custom full-color holograms with motion, Liti is dedicated to providing innovative 3D tools and images at an affordable price.

Of particular interest is the Litiholo "Instant Hologram" Film, which creates the holograms without any processing, much like Polaroid film for traditional photographs. The kit sets up easily on any solid table or surface, and takes up about 12 inches of space. After exposing one of the film plates to the laser light for a few minutes, the hologram is visible by looking through the film plate to see an image that looks like you could reach around and grab it.

Liti launched the Hologram Kit in October of last year, selling primarily through their website, at www.litiholo.com, and gaining some exposure from the Slashdot website. The kit has since been picked up by several major educational distributors such as Sargent-Welch and American 3B Scientific.