New Product Configurator from Early Impact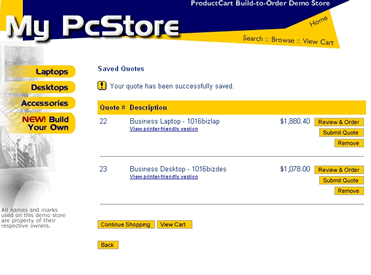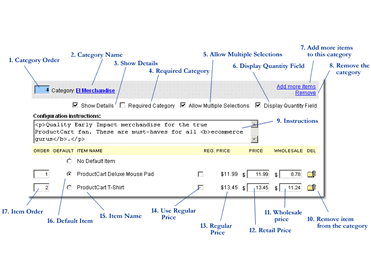 Images showing a sample front page (top) and administration page (above) for the ProductCart Build To Order v2.75 from Early Impact

2005-04-20 - San Francisco, CA, USA: Early Impact, an ecommerce software development company, has announced the release of ProductCart Build To Order v2.75, which seamlessly merges Early Impact's popular ProductCart ecommerce software with a powerful product configurator and online quoting engine.

All of the new features added to ProductCart v2.75 are available as part of the Build To Order version of the software. In addition, ProductCart Build To Order v2.75 includes an improved product configurator to give store managers even more flexibility when selling customizable products and services over the Internet.

ProductCart Build To Order is being successfully used in a variety of industries where companies faces the challenge of allowing customers to configure a product or a service via their Web site prior to saving a quote or ordering it. Among them are:

(1) Dozens of custom computers retailers around the world better compete with the "big guys" by using ProductCart Build To Order on their Web sites. The software allows customers to purchase pre-configured PCs, configure a computer from scratch, or combine both approaches for partially configurable systems.

(2) Online printing companies offer their customers any number of printing options (i.e. paper type, cover type, binding type, number of colors, number of copies, delivery option, etc.), and let them configure a custom order online.

(3) Catering businesses let their customers pick and choose what they need for a party or corporate event, changing quantities for each of the selectable options and seeing the price adjust in real time.

(4) Companies selling complex industrial machinery use Build To Order as an online quoting system to allow customers to quickly and easily create a printable quote of the product they are looking for. Store managers can turn off the ecommerce portion of the system with one click and allow customers to finalize the transaction offline.

(5) Custom furniture manufactures and retailers use ProductCart Build To Order to allow their customers to specify exactly what they are looking for when buying anything from outdoor furniture to personalized cushions. Early Impact has available a number of online 'demo store', which show how ProductCart Build to Order can be applied in various sectors. These are:
Customizable computers
Printing
Catering
Complex Industrial Machinery

Written entirely in Active Service Pages, a popular programming language for developing Web applications, ProductCart is also used as a foundation on which to build custom ecommerce systems. Early Impact say that companies find that this approach can save tens of thousands of dollars compared to developing a product configurator from scratch or licensing a higher-end solution.

ProductCart Build To Order is available from Early Impact and its resellers starting at $1,295 per storefront. Web designers and other resellers enjoy discounts, sales leads, and priority technical support.