Materialise Turns Spotlight on Rapid Prototyping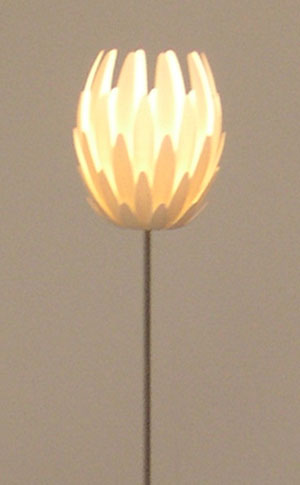 One of the lighting products made by Materialise using RP techniques
2004-06-11: When the layout of MadeForOne.com was being designed, the approach taken was to divide news items into two categories, the first dealing with mass customised products, and the second category dealing with technologies that could be used to produce them. It was not expected that any enterprise would be both a producer of customised products and a supplier of technology as well. But that was before we discovered Materialise.

Materialise NV was founded in 1990 as a spin-off from the University of Leuven. Today it is a private company with several fully-owned subsidiaries in Europe, Asia and the USA, employing over 240 people in 3 divisions. Materialise Prototyping works to "materialise" technical prototypes and small series through advanced prototyping and tooling techniques. Materialise Software aims to develop the technical software applications that allow a more efficient use of the rapid prototyping techniques. Finally, the Medical division creates medical models using these prototyping techniques, and develops medical software packages that are used by clinicians worldwide to assist them in the most complex cases of surgery.

These divisions will be looked at in more detail soon, but the first thing to mention in regard to Materialise is the lighting products range, called ".MGX". Perhaps the most interesting thing about these lights from a mass customisation point of view is the way they are made.

The lamps are created through prototyping techniques - stereolithography and selective laser sintering - that offer almost unlimited freedom of design. Materialise aims to unleash a new era of mass customised design based on this technology. The company says that its experience of 10 years with rapid prototyping technology and software enables it to meet the customer's wildest dreams for mass-customised consumer products.

For those unfamiliar with rapid prototyping technologies, it is easy to depict this technology by comparing it with familiar inkjet printing. Instead of building up a text, this technology actually constructs a 3D object by adding one slice on top of another in a vessel of liquid polymer (for stereolithography) or powder (for selective laser sintering) that hardens when struck by a laser beam. With the software developed by Materialise and with 3-dimensional printing technology it has now become possible to translate 3D visual effects into actual 3D material structure.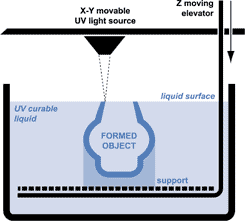 Schematic overview of the stereolithography process
The lights are designed by Jiri Evenhuis and Janne Kyttanen, whose company, Freedom of Creation, with the assistance of Materialise, develops concepts and products made with 3D printing technologies. The reason the lights are called ".MGX" is that *.mgx is a file extension used by the Materialise Magics software. Each product produced by Materialise is represented by an *.mgx file which is added to the product on a CD-ROM. One can reproduce a design by sending the product's *.mgx file to Materialise. Materialise suggest that, perhaps, it will not be in the far future when data will be used to replace 3D objects. For example, it might be possible to download products from the web in the same manner as mp3s are being downloaded today. (This general concept is sometimes known as 'fabbing', and will be the subject of a separate MadeForOne.com article soon.)

Materialise Prototyping offers rapid prototyping services using various technologies. For a mass customising enterprise, These services could be used to supply prototypes of modular components, which could be tested for fit and interchangeability.

Materialise's stereolithography service includes a next day service, where an order which is received before 12:00hr (CET) can be supplied to the customer's office the next morning. There is also the standard service and the 'Mammoth SLA' service for items up to 2100x650x600mm in size.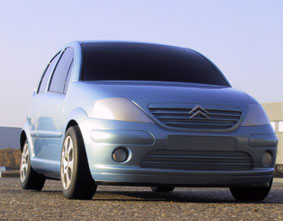 Scale 1/5 CitroŽn C3 in stereolithography, painted and lacquered
As described earlier, Selective Laser Sintering (SLS) is also a technique by which parts are built layer by layer. The basic material consists of powder with particle sizes in the order of magnitude of 50 Ķm. Successive powder layers are spread on top of each other. After deposition, a computer controlled CO2 laser beam scans the surface and selectively binds together the powder particles of the corresponding cross section of the product. During laser exposure, the powder temperature rises above the glass transition point after which adjacent particles flow together. This process is theoretically possible with all powdered thermoplastics.

Another service is wax models. These are built using a ThermoJet machine, and are suited for use as master patterns for investment castings. The ThermoJet parts are also suitable to be used as models for design evaluation but not intended for use in functional testing or in applications that excessively stress the model. Like all RP machines, the ThermoJet "prints" physical models from 3D CAD data files. The technique produces models by spraying layers (0.042 mm thick) of tiny droplets of wax onto a platform surface, much like an ink-jet printer.

Materialise also carry out high-speed milling. The method employed combines high spindle speeds with increased feed rates. This results in a high chip-forming rate and lower milling forces, producing an improved surface quality and closer tolerances. Materialise has introduced this technology to complement its rapid prototyping techniques of stereolithography and selective laser sintering. This allows fast, accurate machining of materials like fibre reinforced plastics and tool grade aluminium.

The Prototyping Division also offers other services such as vacuum casting and rubber-plaster moulding.

Materialise Software develops innovative applications enabling advanced use of the rapid prototyping (RP) and tooling techniques. The Materialise software products provide a variety of solutions for data handling in product communication, rapid prototyping and rapid tooling. Also, the Materialise Software Development Services offer professional software solutions using the largest software development team in the RP sector with locations in Belgium and Kiev (Ukraine).

The first of the Materialise Software range is called Magics, designed for manipulation of STL CAD files. Magics Software is made up of fifteen modules, designed for various RP tasks. Materialise say that "Magics is the only software that is tuned entirely to the needs and characteristics of the Rapid Prototyping process. The 3D tools of Magics RP enable you to deliver high quality prototypes with the shortest lead times, while providing you and your clients with full documentation in the process."


Part with automatically generated support structures, from Magics RP Support Generation module.
A second software product, the Magics Tooling(TM) product line provides a comprehensive solution to the tool design and manufacturing process. It is a dedicated package optimised to do one thing and do it well: design and create the tool in the fastest way possible. This is in contrast to current working methods for mould design, which are a compromise between functionality, speed and ease of use. The automated functions found in Magics Tooling allow for different tooling configurations to be explored. The Magics Tooling can take you from part analysis and tool quotation, through the design of parting planes, cores, cavities, inserts and electrodes, to the generation of the final tool cutter path. Materialise take the view that working with a standardized data model throughout the whole process significantly reduces training time and boosts productivity.

The third product in the Magics range is Magics Communicator, a design collaboration tool that enables product designers and their customers to work together in rapid prototyping projects. Users can, for example, view CAD files in from a number of formats, Add 2D and 3D annotations, shapes, text and bitmaps, and create 2D drawings from 3D files.

Materialise have built an integrated software and hardware solution for quality control and manufacturing operations on large, thin walled components. It is called Magics RapidFit. With this system, large parts with minimal wall thickness and form instability can be fixed onto a reference plate. Firmly positioned, these products can easily be checked, measured, machined or assembled. Quick and cost efficient support structures, called fixtures, are automatically designed by the RapidFit software. The RapidFit system builds fixtures by making use of Rapid Prototyping techniques; the fixtures fit to a standard reference plate in a unique and well-defined way. The Magics RapidFit software is a module in the Magics line that is optimised for the automatic generation of fixtures.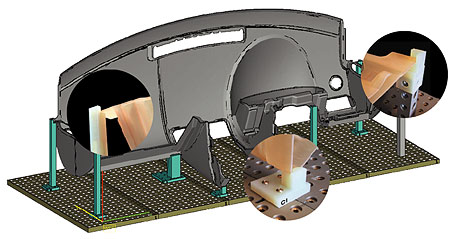 The RapidFit software and the RapidFit system.
The third element of Materialise, the Medical Division, specialises in modelling and software to assist medical practitioners. Mimics is a 3D image processing and editing software based on CT data. The software imports scanner data in a wide variety of formats and offers extended visualisation and segmentation functions. Mimics translates CT or MRI data into full 3D CAD, Finite Element meshes or Rapid Prototyping data within minutes. By the separation into different modules it can be tuned for every situation. One researcher said that "Mimics and Magics have been tremendously helpful in our research. With the help of these two powerful software packages we can go from CT-data to a custom designed implant component ready to be fabricated in hours".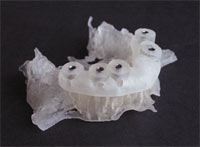 Materialise SurgiGuide
SimPlant is precise preoperative planning software for predictable treatment planning of dental implants. A plan is created for the ideal positioning of dental implants, in both 2D and 3D, while taking into account both clinical and esthetical considerations. The surgeon uses SurgiGuides, drill guides that guide the drill exactly to the planned implant location, manufactured in such a way that it perfectly matches the treatment plan, turning it into reality. SurgiGuides are custom manufactured for each patient.

It is unusual to find a company that applies technology to a problem in the way that Materialise does. Their general area of expertise is in rapid prototyping, and one might expect that they would simply concentrate on offering RP services to other enterprises. However, this company has applied itself to every aspect of the RP value chain, from the design of RP software, to the manufacture of solid items using rapid prototyping, and the combination of software with RP for medical device production, and even has applied RP methods to consumer products with the .MGX lighting range. The company provides an example of what can be done through the use of combinations of technologies. For the world of mass customisation, the example of the .MGX product range shows that the line between manufacturing and services will continue to fade, as RP techniques may yet become 'manufacturing techniques'.
All Pictures: Materialise NV