Bra-Commerce Comes to the Web with Snares of Venus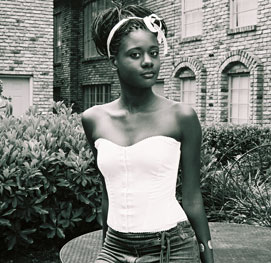 A cotton summer corset, part of the summer '05 collection from Snares of Venus

2005-06-25: The difference between Shelancia Daniel, owner of Snares of Venus, and other custom bra makers is she will never meet 90% of her customers face to face.

With hundreds of bras successfully made from on-line orders, the possibility of women being able to get an attractive, great fitting bra from the privacy of their own home is an unexpected alternative to the local department store.

From her own personal 'bra hunting' experiences, Shelancia, a Costume Design graduate from the International Academy of Art and Design in Toronto, was never able to find a bra that fit. After years of wearing the same type of bra over and over, she was fed up with bra companies for not making bras in her size. Frustration quickly led her on a mission to make beautiful bras in shapes and sizes that were unavailable in regular stores.

With a background making theatrical costumes such as corsets and bustles, Shelancia had never made a modern bra before, and did not fully understand how to size them. She purchased old bras from second hand stores, carefully took them apart, recorded how they were made and used them for practice patterns. Using her design and pattern drafting skills, she was able to create a grading system which encompassed a wide range of different dimensions and sizes.

After successfully learning the art of bra-design, it was time to put her skills to the test. Snares of Venus, her own underwear company, was born, with herself as the first customer. While building a steady clientele in Toronto, she frequently traveled to Houston to visit her husband. In Houston she continued her research by measuring and making custom bras for other women with the goal to perfect her pattern drafting system.

Traveling between cities opened Shelancia's eyes to the magnitude of women who were in need of a custom made bra. To help the women whom she couldn't see, the Snares of Venus website (www.snaresofvenus.com) was launched in November of 2002. "At that time we were unsure if it would work" says Shelancia. "Everything then was still a learning experience, but, to make this idea work, we had to try." The website featured bra patterns, fabrics and colors for customers to order, it also contained the measurement form Shelancia used when she personally measured clients for bras. On-line customers could measure themselves and submit the measurements electronically. "Accurate measurement were the most important thing" she says, "Once we had those, we could make a bra pattern and the bra from anywhere."

Despite no advertising, the Snares of Venus website received an overwhelming response. Customers as far away as Germany who found the Snares of Venus website through Internet search engines, have ordered custom made bras.

During the first year on-line, Snares of Venus became even more exposed to various bra sizes and fitting problems that women encounter with their bras. "This really helped us with our business, our patterns and our on-line ordering system," says Shelancia. "Every woman is so different and at times it was really hard drafting patterns for them, but our clients always encouraged us to keep trying and to keep getting better."

Five years of research has given the designer a fitting edge on the custom bra market. A comuter aided design (CAD) program was developed by Shelancia and her husband/business partner Martin, who is a computer scientist. Using the CAD program, when a customer submits their measurements and chooses a design for their bra, individual bra patterns are custom drafted on a computer then printed out. "In the past it took us a long time to get bras sent out because we hand drafted them ourselves," she says "but with our new program, the patterns are a lot easier to make, items get shipped out faster and the accuracy of the fit is even greater."

Today, Snares of Venus facilitate a wide range of customers including; women with small ribcages and large bust lines, A-AAA cups, asymmetrical cups, maternity bras, mastectomy bras, bras for Pectus Carinatum and Pectus Excavatum, bras for women with allergies, post surgical bras and any other difficulties women encounter when searching for a good fitting attractive bra. "Some customers choose to order a custom made bra simply because they love our designs and fabrics."

More recently, the business has expanded to offer sports bras and corsets made using similar design and construction techniques, and also spinal support pillows and jewellery.

Ordering a Custom Made Bra from www.snaresofvenus.com can be completed in less than 15 minutes and will cost around $85.00, depending on the patterns and fabrics chosen. Various collections of bra patterns are available for the customer to mix and match the fabrics, colors and other specifications. Custom made bra orders take 3-6 weeks to be completed.

"Snares of Venus is committed to finding each woman the perfect fitting bra!" says Shelancia, "If you experience any problem or difficulty with your bra, we will make the necessary corrections to your personal pattern and will fix or remake your bra."

Such guarantees are unusual in build to order businesses, especially in the apparel sector, where the customer must often agree to a 'no returns' policy when purchasing a customized item. This type of commitment to customers could provide many larger companies with a lesson in the much talked-about area of customer relationship management.