Airborne Cycles expands range, supplies U.S. Military Team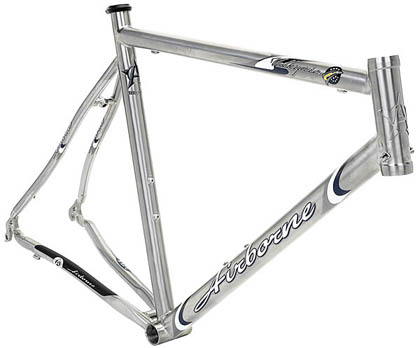 Airborne Valkyrie frame
Custom bicycle manufacturer Airborne has expanded it's Valkyrie racing bike range with the addition of an Audax version. Audax rides are non-competitive long distance tours by bicycle, called "randonnees". The challenge of Audax is not in racing, but in riding at your own pace to finish within the time limit. The word Audax comes from the Latin for bold or courageous. In 1897 a group of Italian cyclists rode 200 km between sunrise and sunset, and became known as "les Audacieux".

The new frame features bosses in dropouts, seat stays and chain stay bridge and 425mm chain stays to carry mudguard and a rack. These features suit the nature of Audax which requires participants to have a roadworthy bicycle, and comply with all road rules. For all rides which have the potential to involve riding after sunset, lighting equipment must be fitted.

In a separate development, U.S. Armed Forces Cycling has partnered with Airborne bikes in a deal that will put the elite team on world-class, titanium bikes for the 2004 season and will benefit all military people with a special discount program. The U.S. Armed Forces Cycling Team is made up of professional military men and women from all branches of service. Team members, all USCF Category 1 racers, compete in local, national and international races as their military schedules permit.

In a commercial sponsorship agreement with bike manufacturer Airborne, U.S. Armed Forces Team athletes will be provided an Airborne bike. According to Armed Forces Cycling manager, Debra Ponzio, "This is a ground-breaking partnership because it doesn't just benefit our elite team but the entire military". Ponzio is referring to the arrangement with Airborne to sell bikes at a 30% discount to everyone in the active duty and retired military - reserve and national guard. Ponzio added, "This translates into big savings for eligible customers. Owning a titanium bike is only a dream for many cyclists. The discount program with Airborne makes owning a professional-quality bicycle a reality for anyone."

Airborne has a natural tie to the military. The owner of the company, Jamie Raddin, named the company in honor of his grandfather who served as a U.S. Air Force pilot in World War II. Bike models are typically named with a military theme. Raddin looks forward to working with military cyclists, "Airborne is excited to supply the Armed Forces Team with bikes. The team reflects the same type of quality and professionalism that is our trademark at Airborne."

U.S. Armed Forces team leader, Coast Guard's Steve Mlujeak, took delivery of the first team bike for the September Armed Forces Team trip Europe. When asked about the bike, Steve said, "It is great to have the opportunity to race such a well crafted bike," and added, "The Torch is one of the best handling frames I have ever ridden."

Airborne produces titanium road, track, time trial, cross and mountain bikes. The complete selection can be seen on their website, www.airborne.net. The website features a configuration facility for customers to design a bike to their chosen specification and then purchase the completed design.