Factory121 launches Metropolitan collection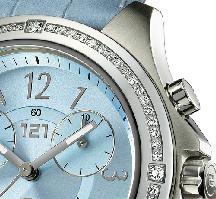 121Time Metropolitan with inset diamonds. Picture: Factory121
2004-05-19 - Martigny, Switzerland: Custom watchmaker Factory121 has gone further in the customization of Swiss timekeeping by offering the opportunity to embed quality, certified diamonds into the design of each individual timepiece. Clients can then choose different precious stone and inlay design on the crown and bezel to suit their tastes. In partnership with a Geneva-based jeweler, exclusive crowns and bezels are available featuring white and black diamonds, starting with the launch of the Metropolitan Collection. Factory121 offers these new watches through the 121Time website (www.121Time.com).

All the precious stones used are natural. They have been purchased from legitimate sources, not involved in funding conflict and in compliance with United Nations Resolutions. Factory121 has guaranteed that these diamonds are conflict free, based on personal knowledge and/or written guarantees provided by the suppliers.

The Metropolitan Collection offers a choice of sizes featuring a diameter of 38mm with either a sporty chronograph or classic 3-hand movement. Once past this first step, the customer can choose among a various watch faces, bracelets, bezels and dials to render his or her timepiece truly unique. The Metropolitan Collection is available with a selection of completely new and redesigned components that, once assembled, provides over a million different combinations of unique and individual timepieces. Of course, if a million is a tad overwhelming, 121Time also provides a pre-selection of models chosen by its qualified staff that should suit the tastes of the most demanding experts in fashion and trends. Customers can also modify a pre-selected model to his or her own tastes.

The 'One-to-One' concept of the new 121Time brand is based on offering individual customers the chance to create their own Swiss timepiece through the Internet. This direct-to-customer (DTC) based platform allows considerable savings by eliminating the cost margins associated with traditional distribution channels. These savings are then passed on directly to the customer.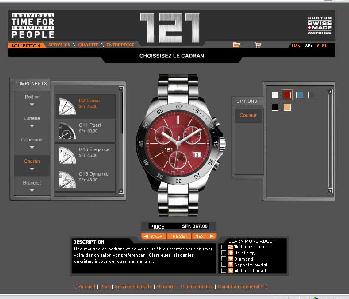 The 121Time watch configurator. Picture: Factory121