Australia Post Offers personalized Stamps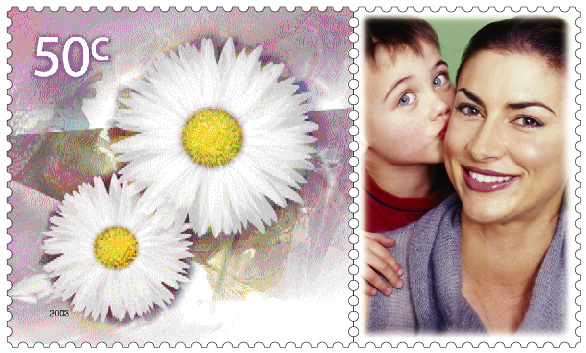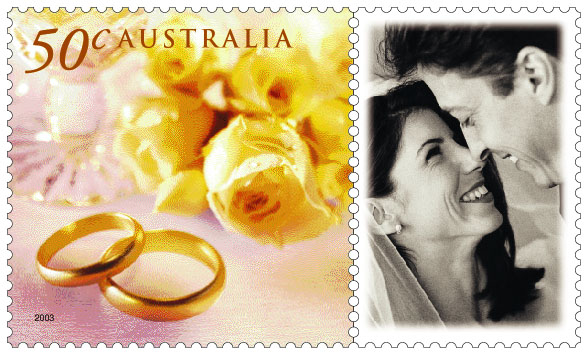 Images: Australia Post
2004-07-07: The Australian postal service now offers its customers the option of ordering personalized stamps, with a photograph printed on the tab of the stamp. The variety of designs which can be personalized make these stamps suitable for many family events, such as engagements, news of the birth of a baby, weddings or birthdays, or to send as greetings to friends and loved ones.

A photograph of the customer's choice can be printed on the tab next to the stamp. This could be anything from the customer's own face, a devoted pet, or even a treasured possession. personalized Stamps can also be used as gifts and keepsakes, and add that personal touch to Christmas and overseas mail.

The stamps can be ordered by picking up an order form at any Australia Post outlet, or through a freephone telephone number. While there is no online ordering facility, customers can submit a request to have an application form issued to them at (http://www.auspost.com.au/philatelic/stamps/pstamps/order.asp).

Sending an order involves choosing a stamp design, stating the quantity required, and enclosing the chosen photograph with the order form. Australia Post recommends sending in a 10 cm x 15 cm (4" x 6") vertical photo. A clear, sharp, close-up photo is best. Horizontal photos can be used, by choosing to reduce the overall image size, turning it on its side on the tab, or cropping the image to fit.





The options for customers using a horizontal photo
There is a minimum order quantity of one stamp sheet (each sheet contains 20 stamps), and the delivery time is about 14 days. Therefore, visitors to Australia who may want to use the personalized stamp service, for example to send postcards with a photograph of themselves at Ayer's Rock on the stamp tab, would have to be staying for a number of weeks. However, the stamp sheets can be sent to overseas addresses, so those wishing to have personalized stamps to use when visiting or keep in a collection do not lose out.

Prices range from AUS$20-45 for a single sheet. Discounts apply when larger numbers of sheets are ordered.