Helensburgh Unwraps personalized Toffee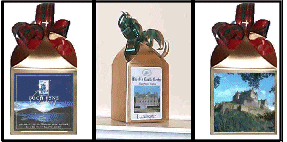 2004-07-13 - Dumbarton, Scotland: The Helensburgh Toffee Company, a traditional Scottish toffee manfacturer, can supply its high quality toffee products in personalized form. The toffee can be personalized by inserting the customer's chosen text, logo, or image on the bag or presentation box. Examples of placements include the customer's own name, a company logo, local view or particular place of interest.

The origins of toffee in the United Kingdom go back to the early 1800's, where the tradition of toffee making developed alongside the industrial revolution. While most of the original toffee makers have disappeared, or have been absorbed into larger food companies, independent companies such as Helensburgh continue to make traditional Scottish toffee.

The extensive range of toffees available from Helensburgh includes Drambuie Fondant Truffle, Chocolate Coated Macaroon and Scottish Toffee. The full list of toffee products is on the Helensburgh website (http://www.helensburghtoffee.com/). In addition to selling directly to customers, the company supplies its product throughout the UK and internationally through its trading partners. The variety of labelling options makes the Helensburgh range suitable for numerous business uses, such as corporate gifts, or family occassions like weddings or anniversaries.

A major plus for those wishing to order personalized toffee products is that there are no additional charges for this personalization service. In addition, no minimum quantities are required, which removes an obstacle often encountered by those wishing to purchase personalized products.

A customer can send their logo, image or colour photo by mail or email to Helensburgh, who will use it to create a sample label which is returned to the customer. Payment can be made by major credit cards and also using PayPal.