Every Kid Can Be In A Spider-Man Story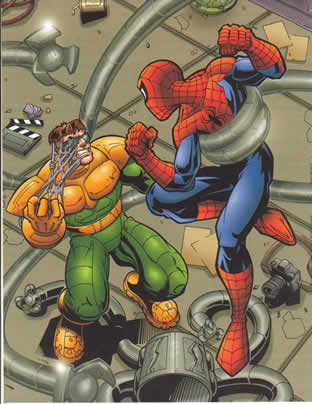 TM & © Marvel Characters
2004-07-26 - Atlanta, GA, USA: RWR Innovations, which produces personalized books for children, can supply a customized Spider-Man story, based on the superhero's battle with Doc Ock, which is also the storyline in Spider-Man 2, currently showing in cinemas.

-"Thinking fast, Bob scooped up a big pile of Spider-Man's webbing that had fallen to the ground. Before Dr. Octopus could react, Bob tossed the webbing toward the villain, covering Doc Ock's face. Dr. Octopus couldn't see and he released his grip on the Spider-Man!"

The personalized super hero adventure book comes in a large 12x9" hardcover format, and costs $17.95 postpaid in the United States. The company's website includes an online ordering facility where the personalization details can be entered.

The storyline is personalized to take the child's first and last name, which will be used in the book. The first name can be a nickname, and the actual first name can be left out. Also, up to three friend's names can be entered. Two friends names are required to make the story read correctly.

At the start of the book, there is a title page which reads "(Child's name) teams up with Spider-Man to stop Dr. Octopus". This page can also include a dedication or message of up to 35 characters, for example "Love, Mommy and Daddy". Orders are normally shipped 48-72 hours after an order is received.

RWR Innovations website has been recognised by a number of certifying bodies as a family friendly site. The company will be the subject of an upcoming feature article in MadeForOne.com.