Sound2 launch unique 'Muza' Product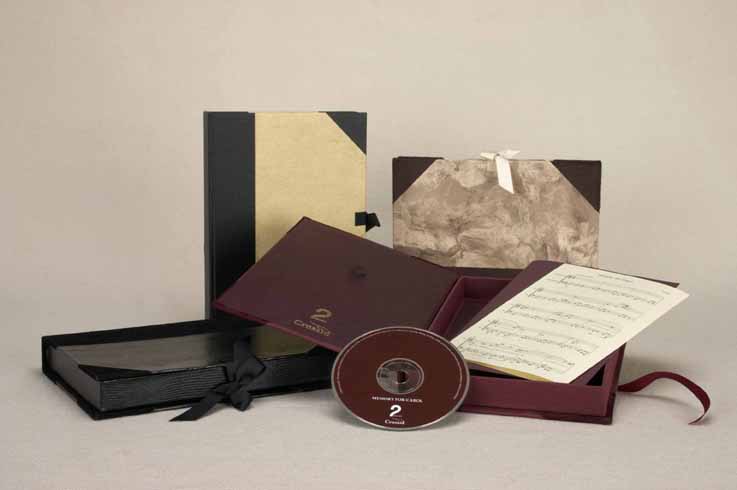 An example of the Sound2 Muza presentation set
2004-08-04 - London, England: Sound2, a British music enterprise, is reviving the ancient tradition of commissioning music and making it as accessible as say, commissioning a portrait. The composition is entirely unique to the individual and can be tailored to suit preferred musical tastes - from classical to RnB and so on. Sound2 has its own in-house team of composers and producers and has many of the UK's best musicians at its fingertips. (Clients can ask for specific performers to make their vision a reality if they so wish). The music is recorded entirely at Sound2's own production studios.

Sound2 calls the new product 'Muza'. A Muza is a composed piece of music available for purchase to commemorate special occasions such as birthdays, anniversaries, Christmas and memoriams. Sound2 will provide the recording on CD in a presentation box, along with the printed musical score.

Sound2's has strong credentials as a musical production company. The Sound2 portfolio includes brand music for Saab, Carlsberg, Capital Radio, BSM, Sky TV and so on. Elisa Harris, Lead Composer at Sound2, has had her works performed all over the UK, including a recent performance at London's Wigmore Hall. Sound2 say that their musicians belong to some of the best orchestras, ensembles and bands in England.

The composition process begins with a discussion between the client and Sound2, which enables Sound2 to gain an understanding of the desired style of music, levels of instrumentation required and so on. Following an initial proofing of the idea, Sound2 will make a first draft of the composition. From this point onwards clients can keep in touch with work in progress via a private web-listening booth. Then the final draft is made and delivery is completed. The composition and recording process will take a minimum of one week.

Prices start at Stg. £200, for midi, computer generated or electronic music. Music which involves live instrumentation begins at around Stg. £500. There can also be a combination of both live and electronic music. Further information is available from the website www.muza.co.uk.