PhotoStamps Allows Consumers to Create Personalized Postage
Turn Digital Photos Into Real U.S. Postage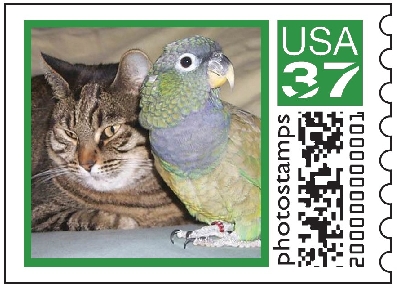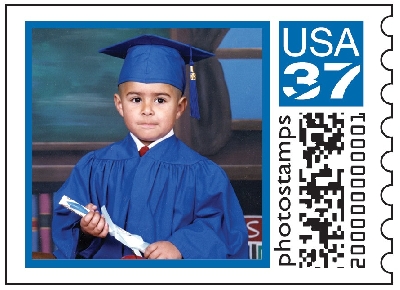 Some examples of PhotoStamps from Stamps.com

2004-08-20 - Los Angeles, CA, USA: Stamps.com(TM) (Nasdaq: STMP - News), a provider of Internet-based postage services, has announced PhotoStamps, a new form of postage that allows consumers to turn digital photos, designs or images into valid US postage. People can create customized postage using pictures of their children, pets, vacations, or celebrations. PhotoStamps can be used as regular postage in the U.S. to send letters, postcards or packages, and are available immediately at http://www.photostamps.com/.

To order PhotoStamps, consumers simply upload a digital photograph or image file, customize the look and feel by choosing one of ten different border colors to compliment the photos, select the value of postage, and place the order online. Each sheet includes twenty individual PhotoStamps, and orders arrive via US Mail in a few business days. PhotoStamps are currently available for the most common sizes of mail in denominations ranging from $0.23 to $3.85.

PhotoStamps offer parents, grandparents, pet lovers, travelers, and anyone with a hobby a new way to share their favorite digital photos," said Stamps.com president and CEO Ken McBride. "From wedding invitations to birth announcements to holiday greeting cards, PhotoStamps are an ideal way for customers to express themselves with their mail. They are also an ideal tool for businesses that are looking for new ways to get their mail noticed or to create a customized identity."

PhotoStamps is a patented Stamps.com product that couples the technology of PC Postage with the simplicity of a web-based image up load and order process. Stamps.com recently received US Postal Service authorization to proceed with a market test of PhotoStamps. It has exceeded expectations to date, with 2000 orders received within the first week.