Scion Announces Limited Edition xA Prices, Publishes Sales Figures for Personalized Cars
New tC Coupe Continues personalization Trend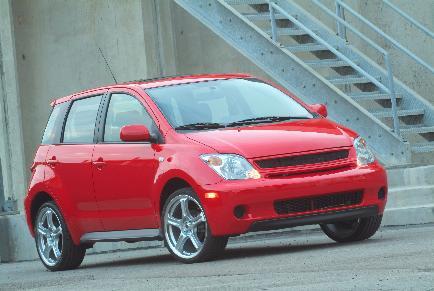 The Scion xA Release Series 1.0
2004-08-26 - Torrance, CA, USA: Scion, the new line of cars for the U.S. market from Toyota Motor Sales (TMS), U.S.A., Inc, has released manufacturer's suggested retail prices (MSRP) for its limited edition Scion xA subcompact. The xA Release Series 1.0 will begin arriving in Scion dealerships in late August.

Scion is one of the motor industry's most significant steps to date towards mass customized, build-to-order cars. Central to the Scion approach are the provision of a high level of standard equipment, plus the facility to personalise a car at the time of purchase with up to 40 different accessories.

The xA Release Series 1.0 joins the vibrant orange xB Release Series 1.0 as the second in a line-up of limited edition vehicles from Scion that will offer several unique interior and exterior enhancements.

All xA Release Series 1.0 vehicles have a bright new body color, Absolutely Red, plus a sports grille and color-keyed rear spoiler. A power tilt and slide moonroof, plus vehicle stability control (VSC) with traction control (TRAC) also enhance the xA Release Series' sporty styling and "fun to drive" image.

Interior enhancements are designed to complement the Absolutely Red exterior color. The xA will be further distinguished with a subtle, black seat fabric with red highlights, along with red lighting in the center storage compartment. Finally, individually numbered series badges will be applied to the interior of each Release Series car.

Only 1,550 units of the xA Release Series 1.0 will be produced. The package will carry an MSRP of $1,395 over the base price of the vehicle. The 2005 xA's MSRP remains at $12,480 for the five-speed manual transmission model and $13,280 for the automatic, not including freight charges.

Scion has recently reported July sales of 14,793 units. July represented the first full month of nationwide sales for all three Scion vehicles - the xA subcompact, xB urban utility vehicle and the all-new tC sports coupe. Calendar-year-to-date sales for Scion totaled 46,016.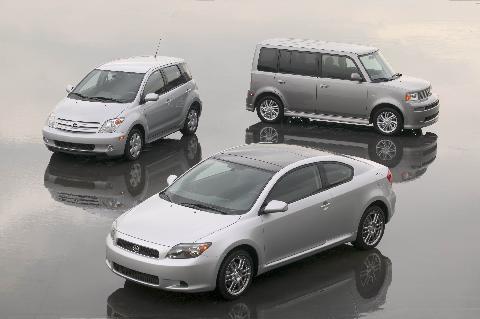 The Scion range, clockwise from front: tC sport coupe, xA subcompact and xB urban utility vehicle
"The Scion business model has gone national and it's off to a great start," said Jim Farley, vice president of Scion. "The combination of upscale products at affordable prices served up in a buyer-friendly environment is striking a chord with consumers."

The 160-horsepower tC sports coupe, designed exclusively for Scion and the U.S. market, posted July sales of 6,297 units. The Scion xB enjoyed a best-ever month with 5,815 units sold, while xA sales remained steady at 2,681 units.

The sleek tC sits low and wide, with a wheelbase of 106.3 inches and an overall width of 69.1 inches. Configured as a three-door hatch, the tC has the formal look of a coupe with a trunk and features a standard panorama power moonroof, a first in its segment. Further adding to the tC's sleek appearance, the windshield wipers are set low so the driver has an unobstructed view. Class-above styling cues include outside mirrors with built-in turn signal lights, a clear lens center high mount stop lamp, "eyebrows" that emphasize the headlamps' steady gaze and a sporty mesh grille.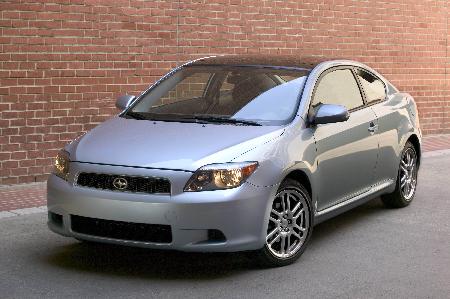 The Scion tC sport coupe
Power is provided by the 2AZ-FE all-aluminum 2.4-liter dual overhead cam four-cylinder engine with Variable Valve Timing with intelligence (VVT-i) specifically tuned for tC. Output is rated at 160 horsepower at 5,700 rpm and 163 lb.-ft. of low-end torque at 4,000 rpm. This CARB-certified Ultra Low Emission Vehicle (ULEV) engine is mated to a choice of either five-speed manual or four-speed automatic transmissions. For added performance, a dealer-installed, fully-warranted supercharger system developed by Toyota Racing Development (TRD) will be available this autumn. The turnkey performance option incorporates a Vortech scroll compressor and integrates with the factory engine management system to boost output to approximately 200 horsepower.

The tC carries on Scion's philosophy of personalization. Like xA and xB, the sports coupe is available with approximately 40 accessories at launch. Available accessories exclusive to tC include 18-inch seven-spoke alloy wheels, carbon fiber engine cover, polished stainless steel muffler, unique grille, color-keyed ground effects and rear lip spoiler.

Although the dealer represents credibility for the brand and the sales process, Scion's target market made it clear that they want a different relationship with the salesperson. Target buyers point to timeliness, simplicity and comfort level as the three essentials in a sales experience.

"We looked at the traditional process, talked with younger buyers and identified improvements to three key processes - information-gathering, inventory management and the retail experience," explained Farley. Scion.com and the dealership showroom let customers explore at their leisure and learn about the brand at their own pace. Scion inventory management utilizes a pull philosophy rather than the traditional push method. By using a pooled inventory approach, dealers will be able to get the car they need, at the right time. When combined with the ability to accessorize vehicles at the dealership, this customer-driven approach helps ensure that the right car is matched to the right customer. Research showed that although Gen Y wants a more timely transaction, most are willing to wait about a week for their custom-built car.

The Scion dealership environment caters to buyers who want the resources to answer their questions, but who also need the freedom to explore at their own pace. The Scion showroom accomplishes this through three key areas, each with a specific focus:

· The product area includes highlights of the vehicles' features on 50-inch plasma screens, several accessory display cases, freestanding paint and fabric selector stands and, in many showrooms, a Scion vehicle customized with accessories.

· The discovery zone is supported by self-service Internet kiosks and printer stands, where users can log onto the Scion Web site, simulate customization of their chosen vehicle, including installation of the approximately 40 accessories, and then save or print out the data for reference. This streamlines the purchase process and facilitates a more Personalized Gifts experience.

· Finally, the consultation space involves a certified Scion sales staff that will offer assistance and guidance for shoppers who have any additional questions.

About 65 percent of Scion dealers installed the showroom within their current dealership. The rest either expanded their showroom or have a separate facility.

Port pooling of dealer stock and port installation of accessories have made delivery of a custom-ordered vehicle quicker and easier, while keeping dealer inventory at minimal levels. The speed and ease of the process is further enhanced by a buyer who has typically already "built" and priced-out his/her new Scion online before ever stepping foot in the dealership.

Scion began selling its first two production models, xA and xB, in 105 California dealership showrooms on June 9, 2003. In February 2004, sales expanded to cover 23 more states in the Gulf States, Southeast and East Coast regions. In June, the launch of the 2005 tC sports coupe coincided with the completion of Scion's national rollout.

The cars are designed to appeal to 'Gen Y' customers, who Scion believe value emotional attributes in addition to rational elements often coveted by 'Baby Boomers'. It is critical that Gen Y buyers be allowed to discover things, like new brands, at their own pace. "The Scion brand, from the beginning, was not designed to be promoted. It was designed to be discovered," said Farley.

Each generation wants to find its own way in life and discover its own brands. Gen Y seeks out products on its own terms, it is impervious to mass media. They also demand authenticity - things need to be "real." And finally, they treasure their relationships with family and friends and have a strong sense of community.

One segment of Gen Y is comprised of trend-leaders, or early adopters who like variety and who are not afraid to try new things. More importantly to an automaker, these are the people who believe that their vehicle is more than a form of transportation - it's an expression of their individuality.

This trend-leader population is just part of the Gen Y market and accounts for about 15 percent of the overall generation, or about 10 million consumers by 2010. Scion will target this sub-segment and focus on passenger cars, while Toyota will continue to target more mainstream youth.

Scion has been and will continue to generate interest and increase awareness through its interactive Scion.com Web site, a hybrid lifestyle/automotive magazine and participation in aftermarket and lifestyle events and shows. "All Scion events and communications are layered and designed to be viral, creating crossover into one another," said Farley. "They are designed to be interactive, between the participant and brand, amplifying Scion's core philosophy of participation and inclusion."

"Scion is a laboratory, a work in progress, that will continue to evolve along with the quickly-changing demands of a new generation of consumer," said Jim Farley. "Where we are today may be far from where we will be tomorrow."