Xybernaut® Introduces Atigo® T With LINUX Operating System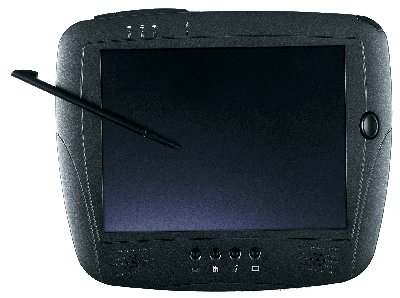 The Atigo T from Xybernaut
2004-09-05 - Fairfax, VA, USA: Xybernaut Corporation (Nasdaq: XYBR) today announced a LINUX operating system (OS) for the Company's build-to-order Atigo product family -- a line of wearable computers designed for dual use as a wireless flat panel display (FPD) or a stand-alone wireless-enabled mobile/wearable computer.

The LINUX OS adds considerable flexibility for Atigo customers through its Open Source features and its ability to be tailored for mission-specific applications. The Xybernaut LINUX OS has been optimized for the mobile/wearable Atigo platform and will be available offered as an OS option on the Xybernaut Atigo T. This adds LINUX as the third OS option for the Atigo in addition to Microsoft Windows® XP-Embedded (also for the Atigo T) and Microsoft CE.NET (available for Atigo M).

"With LINUX deployments growing quickly on an international basis, our interest naturally moved toward offering a LINUX OS option for our Atigo product family," stated Steven A. Newman, Xybernaut president and COO. "The LINUX option lowers the price of entry to our Atigo T product family and has been a particularly strong area of interest from our European customers because academia and businesses in Europe have been very quick to add LINUX to their enterprise IT architectures."

All Atigo products support dual-use functions and are configured with built-in IEEE 802.11b WLAN wireless networking support through standard PC Card and/or Compact Flash slots. Xybernaut say that the newest LINUX Atigo products will incorporate various Open Source features, such as support for industry standard communications protocols, advanced data management and system configuration features and superior network management capabilities.

While offering multiple operating systems is one manner in which Xybernaut is supporting a wide variety of customer needs and preferences, Atigo products are also built-to-order and can be readily customized to meet client-specific requirements. These requirements can include configuration aspects, such as computing features and application support, or design elements, such as use of corporate logos and colors. After a customer determines the unique specs for their Atigos, the units are shipped with the custom elements already in place so the devices are ready to go when they arrive at the customer site.

The Atigo® T is powered by the Transmeta® Crusoe™ TM5800 Processor (1GHz CPU) and has the following memory features: 256 SDRAM and multiple Flash Memory configurations (512 MB standard, with 128MB, 256MB and the newly available 1 GB option).

Atigo products have internal rechargeable Lithium-ion batteries and optional hot-swappable external batteries that more than double run-time. All Atigo products have 8.4-inch touch-screen enabled high-contrast 800 x 600 SVGA resolution displays with the Atigo T/HB incorporating greater support for outdoor use in direct and indirect sunlight.

A wide variety of accessory options are available for all Atigo products including Bluetooth® support, desktop charging cradle, AC charger, car charger, external batteries and wireless keyboard/mouse options; and a variety of soft-goods for durability, wearability and ergonomics.

All Atigo products support wireless or hard-wire communications through built in CompactFlash (CF-IO) and PC card slots. Other standard features include multiple USB ports and RF transmitters that enable easier ActiveSync to other computers.

The Atigo product family is currently available directly from Xybernaut and through Team Xybernaut™ - the Company's community of more than 100 value added resellers (VARs) and systems integrators. Specific pricing details and price quotes can be obtained directly from Xybernaut by calling toll-free (in the U.S.) 1-888-992-3777.