New Colours and Additions to 121TIME Range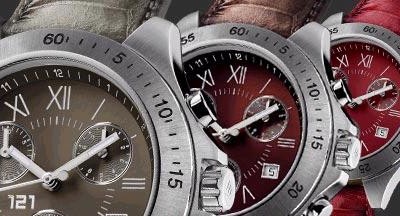 Examples of the 121Time range
2004-09-10 - Martigny, Switzerland: customized watch maker 121TIME has introduced new colours for their Metropolitan Autumn Collection, and has also added new wristband styles to its range of made-to-order watches.

121TIME has extended their range of dial colours for the Metropolitan Autumn Collection by intrducing two warm autumn tones to the range, called smoky grey and racing green.

The first of the two new watch styles is the Eagle, a really tough wristband with a retro look, consisting of two removable leather straps and equipped with a sturdy, intricately made stainless steel clasp. With its masculine appeal and the distinct motorcycle lifestyle symbolism, this wristband works well with the robust watches of the Metropolitan and Challenger collections.



The new 121TIME Eagle and Duke Pad wristbands
The Duke Pad represents a fashionable extension to 121TIME's successful Duke wristband collection. The two-part, crocodile-look calfskin wristbands are available in three fashionable colours: beige, pink and sky blue. The pad, or larger part, is easily removable and can be worn alone or combined. This wristband is available with the models of the Metropolitan and Challenger gentsí and ladiesí collections.

Separately, the company has also announced that the Century Classic range has been re-named as 'Centurio'.