Pelham Sloane Selects First U.S. Distributor to Market All-In-One Screenback Computers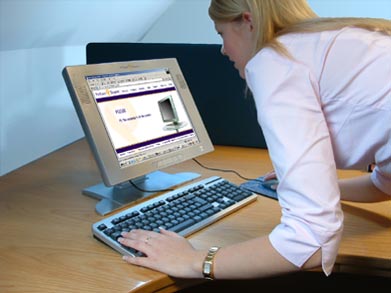 The P1500 screenback PC from Pelham Sloane
2004-09-17 - London, England and City of Industry, CA, USA: Pelham Sloane, the British manufacturer of award-winning, all-in-one 'screenback' computers, has selected International Computer Graphics, Inc. (ICG) to be its exclusive distribution partner in North America. ICG is the leading specialty distributor of displays and peripheral hardware in the United States.

Pelham Sloane's products integrate a computer with full processing capability within a flat screen measuring only 2 inches in depth. Its flagship product, the PS1500, delivers significant space efficiency and a wide range of flexible options. These include: touch screen, flexible mounting mechanism (stand, wall or arm), internal wireless networking, wireless keyboard and mouse among others. The PS1500 uses an Intel Pentium 4 processor and the Microsoft XP Professional operating system.

All Pelham Sloane PCs are built-to-order, with no inventory stock held anywhere, and all the PCs are configured to the customers requirements. The company is focused on marketing to value-added resellers in the home automation, health care and retailing sectors. In addition, the company targets the hospitality and call centre industry as well as other businesses where space efficiency is a requisite.

ICG maintains seven sales offices and full-service distribution centres located strategically across the United States. The company offers a full array of visual display support services including online e-commerce, lead generation programs and creative financing and leasing programs for its reseller customer base.

Pelham Sloane chose ICG because of its focus on the display market and its strong marketing commitment to a relatively small number of vendors. Chris Miller, vice president of marketing at Pelham Sloane, commented: "ICG is the ideal partner for launching our distribution effort because of its commitment to marketing actively to resellers who are the key targets for Pelham Sloane.

"ICG is also willing to adapt to our customer oriented build-to-order business model."

Jerry Kisling, director of marketing at ICG said: "We are pleased to add Pelham Sloane to our list of vendors. The PS1500 provides us with a product that complements our existing product offerings. Pelham Sloane's products provide a complete solution in applications where none has not been available in the past. These features provide meaningful incremental growth potential for ICG."

ICG will be sourcing and delivering Pelham Sloane's products to its U.S. reseller channel beginning September 20, 2004.

In addition to its range of screenback PC's, Pelham Sloane also sells a range of integrated 'Complete Desk' products, which incorporate a screenback computer in a customised office desk.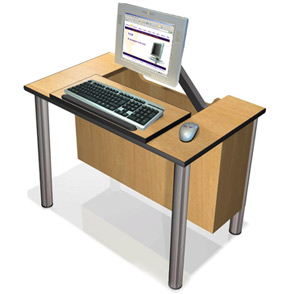 An image of the Pelham Sloane Complete Desk