Styled By Ford, Designed By You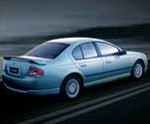 A Ford Falcon with factory fitted spoiler and bodykit
2004-10-21 - Campbellfield, VIC, Australia: Ford of Australia has become the lastest automotive manufacturer to offer customers the ability to personalize their car or utility vehicle with factory-fitted custom features.

Ford iDesign is a range of Ford designed and factory fitted options which customers can pick and choose from to enhance the visual appearance of their vehicle. "We know a lot of our customers are very passionate about their cars and they're continually looking for some way to make their vehicle stand out from the crowd," said Ford Asia Pacific Design Director Simon Butterworth.

"By utilising Ford iDesign, customers will have access to a range of visual enhancements styled by Ford designers, engineered to exacting Ford standards and factory fitted."

Butterworth said Ford iDesign was created to support the growing trend toward vehicle personalization with a range of options styled by Ford designers to complement the look of the vehicle.

Initially, Ford iDesign options will be available on Falcon MkII sedans and utility pickups (known in Australia as 'utes').

A large range of alloy wheels and choice of interior and exterior styling packs, including a sunroof, will be available on Falcon sedans.

Falcon Ute customers will also have the option of adding a hard, smooth-finish tonneau cover or alloy sports bar.

For the Territory SUV, from November, exterior enhancements are provided by a Body Styling Pack or Running Boards and there are also some all-new interior options.

"More Ford iDesign options will soon be available both for these vehicles, and for other models such as the all-new Focus due here next year."

The authenticity of Ford iDesign vehicles will be validated by discreet badges on the B-pillars and underneath the hood.

"We looked closely at more overt Ford iDesign badging but decided to choose a subtle badging strategy that did not detract from the exterior styling of the vehicle."

Ordering on Ford iDesign options is available through the Australian Ford dealer network, in line with the launch of the Falcon MkII sedan and ute. Ford Australia allows potential customers to configure a vehicle to their requirements and receive a quotation for their chosen specification. However, the ordering process is still handled through the dealer network.

A significant number of auto manufacturers now offer customers the ability to configure their chosen vehicle online. However, there is a reluctance in the industry to move towards direct selling, as the manufacturers do not want to alienate their existing dealer networks.