MyKidsTunes.com Announces Personalized Music Service for Children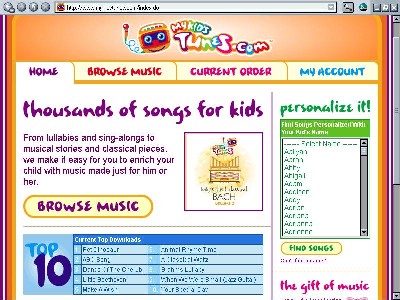 The MYKidsTunes.com website
2004-10-28 - Mission Viejo, CA, USA: My Kidís Media, Inc., has announced the launch of its music division: My Kidís Tunes at www.MyKidsTunes.com, offering personalised and non-personalised music for children, from newborns to 6 year-olds.

Through the MyKidsTunes.com Web site parents, teachers, friends, and loved ones can search for their childís name and select personalized and non-personalized music to enrich their childrenís lives. Within minutes, users can select, purchase, and download songs for hours of enjoyment. Songs and albums can be burned to a CD, downloaded to an MP3 player, or downloaded to a computer. My Kidís Tunes currently has in excess of 40,000 songs available.

My Kidís Media donates a percentage of every transaction to international, national, and local childrenís charities. In addition to sponsoring core charities who receive a donation from every transaction, My Kidís Media offers charitable partnerships to non-profits. Charity Partners earn commissions for all music purchases made on the My Kidís Tunes site by customers they refer. Affiliate Partnerships for corporations are also available through the MyKidsTunes.com site.

The executive board and management team of My Kidís Media consist of leaders from many different backgrounds, industries, and personal experiences, including technology, finance, medical research, and communications. Many of the My Kidís Media team members have overcome significant physical challenges in their lives, including cancer, children born with ailments, limb deficiencies, or other disabilities. The impact of the challenges, as well as seeing the positive result of overcoming them, have motivated each in a different way to dedicate him or herself to the My Kidís Media operation.