Strauss Computers Offers Customized Rent-to-Own Computers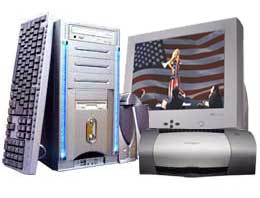 The EZ Pay PC Gamer Deluxe System with upgrade monitor and printer
2004-08-30 - Tampa Bay, FL, USA: Strauss Computers, Inc. has announced the launch of their web site, www.ezpaypc.com which offers brand new top-of the-line computers, customized to the consumerís specifications. A unique selling point for this site is that it offers guaranteed credit approval. The concept of EZ Pay PC was established in the year 2000 by Strauss Computers, Inc. which has been in business for over 17 years.

Customers can choose their computer, customise it to accommodate their specific needs, pay an affordable down payment and have a computer built and shipped within 7 business days. Every system is built by EZPay PC using high quality components such as Intel, AMF and Samsung. Each system comes wit h a 30 day money back guarantee.

Remote Assistance, which is the ability to trouble-shoot a computer by using the internet, logging into a computer and fixing any technical problems, is available to all customers. This new technology gives their technical staff the ability to service clients anywhere in the U.S., regardless of geographical location.

"We take great price in our products, and we pride ourselves in customer service. We have found that our customers make the best salespeople. Once someone buys a computer from us, they tell their friends and associates; we get many referrals" says owner, John Strauss.

The company doesn't confine itself to customers with bad credit records. Anyone can order a PC from the EZpayPC.com website, paying a deposit up front, and making the remaining payments over a one year period. Payments can be made weekly, bimonthly or monthly, and are interest free.

The range of PC's available includes a budget model featuring an AMD Sempron 2400 chip, with 1.67 Ghz to 2.4 GHz Clock Speed; a home and office system with an Intel Celeron 2.4GHz chip; and a specialist gaming machine powered by a 2.4GHz Intel Pentium-4. All of the machines can be customized at the time of purchase according to user requirements. Monitors and printers are not included in the basic packages but can be included as an upgrade when ordering the PC.