Build-A-Bear Workshop Floats on NYSE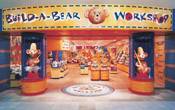 One of Build-A-Bear Workshop's outlets

2004-11-25 - St. Louis, MI, USA: Build-A-Bear Workshop, the only U.S.-wide company providing a "make your own stuffed animal" interactive retail-entertainment experience, floated on the New York Stock Exchange on October 27 last. Build-A-Bear Workshop priced its initial public offering of 8,604,300 shares of common stock on October 27, 2004 at $20.00 per share, consisting of 1,500,000 shares from the company and 7,104,300 shares from selling stockholders. The company received net proceeds of $25.7 million from the offering. On November 23, the shares were quoted at $29.55, a rise of almost 50% on their issue price.

The company currently operates 170 stores in 40 states and Canada and had ten franchised stores internationally, all under the Build-A-Bear Workshop brand. Build-A-Bear Workshop is headquartered in St. Louis, Missouri.

Shortly after the flotation, the company issued third-quarter results. Fiscal 2004 third quarter total revenues include net retail sales of $66.2 million, an increase of $18.3 million or 38.2% compared to last year's third quarter. For the thirty-nine weeks ended October 2, 2004, the company reported net income of $13.8 million ($0.76 per diluted share), on total revenues of $202.2 million.

During the fourth quarter, the company expects to continue with its planned increased spending on its integrated marketing program. With the opening of six new stores in the fourth quarter, Build-A-Bear Workshop says it has accomplished its planned store openings for the year in the United States and Canada. These new stores bring the total number of Build-A-Bear Workshop stores in the United States to 165 and in Canada to five. During the fourth quarter, the company plans to open its first two Friends 2B Made(R) stores, a new interactive retail concept focused on the doll making experience. Also in the fourth quarter, the company plans to open a temporary holiday store in Rockefeller Center in New York City.

In October, the company signed a franchise agreement to open Build-A-Bear Workshop stores in Sweden. Planned international franchise store openings during the fourth quarter include two stores in Australia, one store in Japan and two stores in the United Kingdom. There are also franchise arrangements in Denmark, South Korea, France and Republic of China (Taiwan).

The performance of Build-A-Bear Workshop is of particular interest to MadeForOne.com because it is a strong example of the 'experience economy' described by mass customization writers such as Joseph Pine and James Gilmore. Customers of Build-A-Bear Workshop gain both the experience of making their own soft toy, and the customized finished product. One can imagine that children will be far more excited about getting a bear that they have made themselves.

The idea is one that could be applied to other sectors. Putting aside for a moment sentimental images of children building cuddly toys, Build-A-Bear workshop is effectively running a supply chain for personalised products without having to produce. The customer uses materials and premises supplied by the company, but actually produces the finished item themselves. In this case, the experience is offered as a leisure pursuit, but it is possible that the principle could also be applied where the finished product is more functional.

Examples of where this could be applied might include bicycles, small home decor items or or even soft drinks. In cases where assembly of components is required, some re-thinking of component design would be involved. Items which would normally be screwed or fitted together by a trained production worker might have to be redesigned or 'ruggedised' to enable quick assembly by an untrained customer. A useful concept which could be applied is the use of colour coding, such as is used on personal computers. The various sockets and cables that come with a personal computer are colour coded to assist customers to carry out an intuitive assembly of the various connections between computer, monitor, printer and so on. This idea could be applied to assist customers assemble any type of product from modular components.

It will be interesting to watch the progress of Build-A-Bear Workshop and see if any other companies have success with a similar experience concept.