SmartSwing Applies Personalization Technology To Existing Golf Clubs
Also Announces New Branded Clubs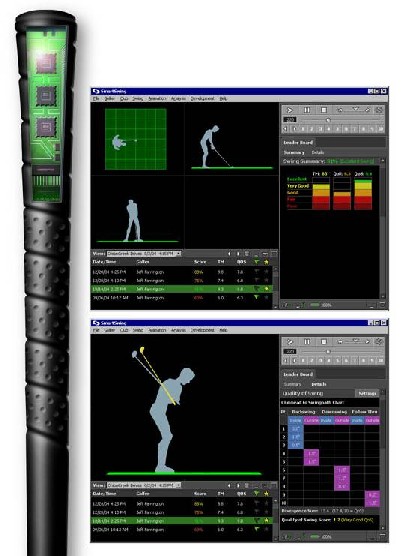 SmartSwing Uses Sensors and software to Monitor and Analyse a golfer's performance
2004-11-25 - Austin, TX, USA: Golf technology company SmartSwing Inc. has announced that it will offer personalization of existing golf clubs for consumers, using its intelligent golf club technology.

SmartSwing's technology provides the golfer with immediate and elaborate feedback on the quality of their golf swing and other mechanics. The feedback occurs on the golf course or the range, and can be transferred to a computer via a wireless link.

During normal play or practice, SmartSwing clubs record all relevant swing data for future analysis. Until now, golfers were restricted to using SmartSwing software in conjunction with the company's own LS100 or LS300 series clubs. With this new development, golfers can, using their existing clubs, view their swing in a relative sense by superimposing it upon a known good or 'reference' swing. Sophisticated analytics allow for a detailed diagnosis of swing problems and learning progression from swinging on plane, to distance, to consistency. The result — accelerated learning and greater enjoyment of the game.

"By introducing a club personalization service, we're responding to the needs of many golfers who have told us that they want the ability to house our technology in their existing clubs," said SmartSwing Chief Executive Officer Dick Eyestone. "Now we can enable virtually all popular drivers, fairway woods and irons that are available in the marketplace."

Information on the service, which starts at US$699 per club, can be obtained on the SmartSwing web site (www.smartswinggolf.com). U.S.- based customers can also call 888-794-6418.

The company has also announced the availability of two new SmartSwing-branded clubs — a 6-iron and a 3-wood — to go with the driver it launched in August. The SmartSwing clubs line of intelligent golf clubs come packaged with their patent pending technology, which for the first time allows a golfer to visualize and analyze their swing.

"There are a tremendous number of dedicated golfers who want to improve and recognize that our technology can help them along that path," said Eyestone. "They embraced the driver but also want the option of working on other parts of the game, something we hope to facilitate through the introduction of these new clubs and our personalization service."