Create Framed Wall Art From Digital Images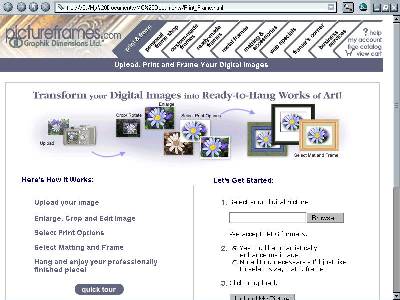 Customers can upload images and create custom frames on the PictureFrames.com website
2004-11-30 - High Point, NC, USA: Graphik Dimensions Ltd., a U.S. manufacturer and purveyor of custom-made picture frames, has recently announced the launch of a groundbreaking Print & Frame feature on its website, PictureFrames.com.

With this feature, customers can create made-to-order framed wall art by uploading their digital images, enlarging them exponentially, applying a number of different artistic borders and filters, and ultimately framing and matting the image online. And unlike standard Internet photo printers, Print & Frame uses the giclee printing process to produce gallery-ready prints.

Graphik Dimensions Ltd. was founded in 1965 by husband and wife artists Steve and Joan Feinsod. According to Graphik Dimensions Ltd. President, Stephen Feinsod, "Print & Frame takes our industry to a new level of interactivity. We are giving the customer the ability to go from a digital image on their computer and, through a series of simple steps, receive it as a ready-to-hang museum-quality piece."

In addition to the image enhancement options, customers can also select from multiple types of paper and canvas, dozens of mats (borders), and hundreds of wood and metal frames in creating their framed wall art. Customers can also save their projects to the "My Gallery" section where they can compare and contrast their creations against each other in both price and appearance.

Since the website was lauched, the company has added 28 new mat colors to its range. Visitors can also create custom projects and email them to a friend, so if you're not sure of your choice of frame or color, you can always get a second opinion. In addition, artists & photographers may create limited editions of their work. It is planned that, from end-December, the business services section will have a considerable portal available just for professionals.

"Our customers wanted us to combine online framing with a digital studio," said Feinsod. "With Print & Frame we've accomplished that goal while also maintaining the value for which we've been know for nearly forty years."

Blake Johnson, PictureFrames.com web developer, adds, "The wonderful thing about the Print & Frame feature is that we are not only using technology in an inventive way, but also empowering the user to participate in the creative process. Every step of the way, the customer makes the decisions and instantly sees the results, all to scale."