Physical Personalization of Consumer Electronic Devices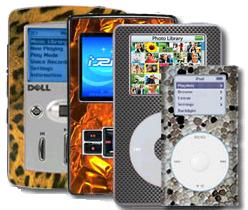 Some of the many devices which can be fitted with SkinIt skins: (L to R) Dell, iRiver, iPod and Mini iPod.
2004-12-04 - Golden, CO, USA: If you type 'personalized PDA' into an internet search engine, it is likely that you will get a great number of websites offering downloads of various kinds. However, a company in Colorado has turned its attention to personalising the outside of PDA's and other personal devices. SkinIt Inc. has launched the new www.SkinIt.com superstore, to target a broad audience of portable electronic consumers interested in changing the physical appearance of their devices through the use of adhesive vinyl "skins".

SkinIt "skins" are manufactured utilizing professional grade vinyl, which is printed through a professional 6-color process with vibrant and sharp designs. The skin is then coated with a scratch proof finish and custom-cut creating a product that fits the specific device perfectly and last for years.

"By utilizing SkinIt technology a consumer can now change the physical appearance of their mobile phone, MP3 player, PDA, satellite radio, portable game device, or any other personal electronic device," said Mike Stemple, Co-Founder of SkinIt Inc. "With hundreds of supported mobile devices and 1000's of custom designs there is a SkinIt for every person and every occasion."

Consumers can purchase a SkinIt to personalize their mobile device through www.SkinIt.com, the companies own personalization portal and soon at thousands of retail outlets using PIN cards redeemable at www.SkinIt.com, as well as through private labeled carriers, hardware manufacturers, and retailer websites.

SkinIt has also announced their new business development department which is actively looking for distributors, partners, private label channel partners, as well as design content providers.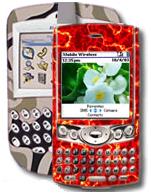 A Blackberry RIM and PalmOne Treo fitted with SkinIt skins.