Raindrop Geomagic Announces Studio 7


The Studio 7 package from Raindrop Geomagic promises advances in registration and large-dataset handling
2004-12-04 - Research Triangle Park, N.C., USA: Raindrop Geomagic has announced that Geomagic Studio 7, scheduled for release in January 2005, features major advances in registration and large-dataset handling. Geomagic Studio is used by manufacturers worldwide for automated reconstruction and redesign of physical parts and molds, mass production of customized devices, and build-to-order manufacturing.

Geomagic says that the latest version of Studio enables faster and easier registration. A new fitting algorithm automatically determines when convergence to a final alignment has occurred, saving time over traditional trial-and-error methods. Further time savings are possible with new code that analyzes scan overlap regions and creates groups of objects that can be registered in a hierarchical fashion.

In addition to speed and ease-of-use, greater registration quality can be achieved through new features in Geomagic Studio 7. Color maps graphically show alignment problems for each scan, making it easy to see deviations. Users can pre-select areas that they want to be automatically aligned by the software. During manual registration, the software performs iterations until the proper fit is achieved and displays local-fitting statistics to ensure registration quality.

"Registering multiple scans has always posed a technical obstacle when digitally reconstructing a physical object," says Peter Scott, Raindrop Geomagic's vice president of engineering. "New algorithms and features in Geomagic Studio 7 are breaking down this barrier, making it easier and faster for the average user to move from points to polygons to accurate surfaces for manufacturing."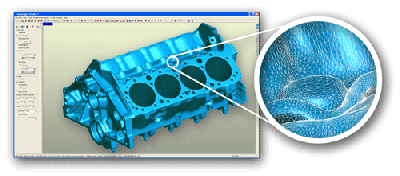 A close up shot of the polygons in a Studio 7 design image
Building on last year's redesigned geometry engine, Geomagic Studio 7 continues to push the boundaries of large-dataset handling. Intelligent memory mapping and disk caching allocate data too large for physical memory into available swap space on the hard drive. This allows users to efficiently process the huge data sets – 100 million points or more – typically generated by the latest generation of high-density scanners.

Other new features in Geomagic Studio 7 include:

* a points-to-polygon wizard that guides users through the most common steps in creating a polygon model from a point cloud, including outlier removal, noise reduction, sampling and triangulation.
* object averaging that composites multiple polygon models to produce a reference master for creating new NURBS surface models.
* the ability to create perfectly flat NURBS surfaces by specifying planar grid regions.
* GUI enhancements, including the ability to use the mouse scroll wheel to zoom in and out of the display area, a background grid with text coordinates for more accurate positioning, and a new tool for selecting only triangles with normals that face the user.

Geomagic Studio 7 will be available in multiple languages through Raindrop Geomagic and its worldwide distribution channel.