Gateway Uses Configure-To-Order for New 64-Bit PC's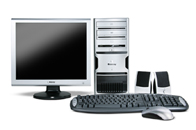 The DX300, one of the new configure-to-order consumer PC's from Gateway (Image: Gateway)

2005-09-20 - Irvine, CA, USA: Computer maker Gateway is making its new 64-Bit PC's on a configure-to-order basis. This new line of desktop PCs for consumers, the DX Series, which includes the latest technology across the entire line, including Intel 64-bit processors, a BTX chassis and a range of technology options.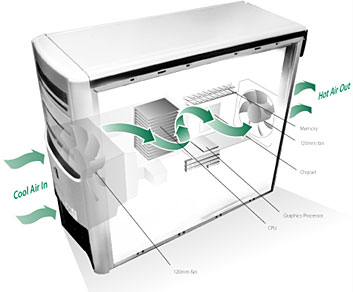 Diagram showing the BTX airflow system (Image: Gateway)

Balanced Technology Extended (BTX) is a new interface standard that was developed as a follow-up to the ATX form factor specification. Since its introduction in 1995, ATX has been the industry standard in PC chassis design. However, ATX can't adequately cool newer high-end components without creating a noise issue. BTX was developed to resolve this problem, by creating a scalable form factor that cost-effectively integrates acoustic performance, power dissipation, structural integrity and motherboard design.

Gateway's unique BTX chassis features a sophisticated cooling system that allows it to easily handle the fastest processors and power-hungry graphics with ease. The design more effectively cools internal components, thereby increasing overall reliability and extending the life of key components by up to 82 percent over ATX PC's.

Gateway say that they've taken the latest technologies that other PC companies typically roll out only on their high-end systems, and are making them available throughout our entire line.

In addition to the latest processors, the new line of PCs feature additional technology, including fast and reliable SATA hard disk drives, responsive DDR2 memory and faster graphics performance.

The new machines are sold through Gateway's website (www.gateway.com) or by telephone. Within the range, there are three new products -- the DX100, DX200 and DX300 -- all of which feature Intel 64-bit processors and Gateway's BTX design. By ordering direct from Gateway, customers can customize their PCs with the features that best fit their needs, including processors, displays, memory, hard drives, optical drives, speakers, audio cards, graphics cards, digital media readers, keyboards and software.

After acquiring eMachines in early 2004, Gateway is now the third largest PC company in the U.S. and among the top ten worldwide. The company has positioned eMachines as the 'value-brand', sold through retailers, while the Gateway line is positioned as the premium option, available at major retailers, over the web and phone, and through its direct and indirect sales force.

All of Gateway's new DX Series PCs are based on Gateway's unique design that optimizes Intel's BTX architecture. Gateway's BTX PCs use dual system fans to create a central wind tunnel inside the chassis to circulate up to three times more air than traditional PCs. As a result, internal components like processors, hard drives and graphics cards are cooled more efficiently resulting in improved system reliability.

The Gateway DX-Series PCs come standard with Microsoft(R) Windows(R) XP Home Edition. Windows XP Professional and Microsoft Office can be selected as an upgrade if desired. The new PCs are supported by the company's standard limited warranty options. Additional service and support options are available.

One support measure which nearly every computer user would have wished for at least once is called BigFix(R). Gateway offers this proactive upgrade tool at no charge on all its PCs. With the customer's permission, BigFix identifies and sends messages offering updates and general PC maintenance. Additionally, and this is the really interesting bit, the Gateway System Recovery solution offers all customers the ability to easily recover drivers, applications or the full factory image. Unlike other recovery systems, Gateway's solution lets customers restore the factory software image while maintaining all data files stored on the PC. So it may be possible to re-install operating systems and software on a comatose PC without losing data files.

The range is divided into the DX100, DX200 and DX300. The DX100 desktop PC is aimed at consumers who primarily use their machines for email, web browsing, word processing and other productivity functions. Unlike many other entry-level desktops, the DX100 features 64-bit Intel(R) Celeron(R) D processors and Intel Graphics Media Accelerator 900, which provides twice the graphics performance of the prior generation. The DX200 features 64-bit Intel Pentium 4 processors and the latest Intel integrated graphics, which provides double the graphics performance of the previous generation. In addition to the choice of several Intel Pentium 4 processors, the PC includes the latest DDR2 SDRAM.

At the top of the DX tree is the DX300, aimed at home customers who want power and performance for gaming and digital media hobbies. It uses the new Intel(R) Pentium(R) 4 600 series processors that are ready to support 64-bit software using Intel(R) Extended Memory 64 Technology. These processors also support Intel Hyper Threading Technology, which makes it easier and faster to take on several tasks, such as burning a music CD while viewing digital photos. The DX300 comes with a DVD+/-R/RW drive and an 8-in-1 digital media reader. Customers can beef up the gaming and digital media performance by choosing one of the optional high performance dedicated PCI Express graphics cards available in the DX300 PC. Plus, the BTX design keeps the graphics card cool since they face into the central wind tunnel. It also allows the highest end video cards to occupy only one slot instead of two, leaving an additional slot for gamers and power users to fill.