Speaking Roses Expands Into Franchising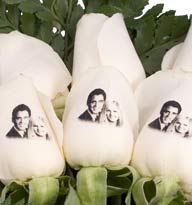 An example of Speaking Roses International embossed flowers, which will be available through franchise outlets.

2005-09-20 - Salt Lake City, Utah, USA: Speaking Roses International Inc. (OTC: SRII), which uses patented embossing technology to print images directly on flowers while preserving the integrity of the flower petals, has begun franchising its service.

SRII has filed its embossing technology patent in over 100 countries worldwide. Based in Utah,
Mike Glauser is the founder and former chairman/CEO of Golden Swirl Management Co., and a co-founder of Northern Lights. Glauser has also consulted with numerous corporations in the areas of business strategy, expansion planning, organization effectiveness and management development. He is currently working with Speaking Roses in the development of the franchise model and has contracted to conduct all in-store training for future area developers and franchisees.

"The opening of Speaking Roses retail outlets will take floral purchases to an entirely new level. We expect to reinvent the retail floral business and expand the ways floral gifts and products can be used to celebrate life's special events," Glauser said.

Winterholler also stated that the overall strategy of the company will be to expand rapidly across the United States through the rollout of franchise stores. All Speaking Roses stores will specialize in full floral services, including personal gifts, weddings, funerals and corporate promotions, each with the option to include customized messages, phrases, pictures and logos at the time of the floral purchase. The launch of the new SpeakingRoses.com Web site is also scheduled in early October. "Our goal is to make Speaking Roses the most recognized and trusted brand in the floral industry," he said.