eMusic Introduces Community-Based Music Download Recommendations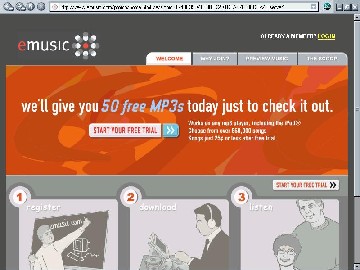 An image of the eMusic.com website

2005-09-20 - New York, USA: Online music download service eMusic has deployed a new system which uses a type of 'community-based' implicit personalization. Conventional implicit personalization is best illustrated by Amazon.com, which recommends books to returning visitors based on previous purchases. While there is a certain 'Big Brother is watching' feeling associated with such practices, the eMusic system appears to be different because it is the other members who make at least some of the recommendations.

eMusic is the second largest digital download service, after Apple iTunes. eMusic claims to sell more than 2.4 million tracks monthly, and its subscription plans start at $9.99 per month for 40 downloads. It has a catalog of 750,000 tracks from established and emerging artists in every genre from the world's top independent labels. eMusic was the first service to sell songs and albums in the popular MP3 format, and also the first company to launch a digital music subscription service. eMusic allows members complete flexibility to burn CDs, transfer to MP3 devices and make multiple copies for personal use.

Through technology powered by ChoiceStream, eMusic subscribers get what is being called "1:1 personalized recommendations" for new tracks which have not yet been rated by other members or eMusic editors. Also, eMusic will soon be launching personalized playlists-personalized recommendations from other members and eMusic's award-winning team of critics, editors and writers- based on each user's specific music preferences. So while the ChoiceStream system will be used for conventional implicit personalization marketing, the community-based recommendations will be in the personalized playlist system. It hasn't been specified whether a member may opt-out of the system driven 'personalized recommendations' and get their recommendations from other members only.

To get to the 1:1 recommendations, ChoiceStream's technology analyzes the member's download history, but also his or her preferences based on the underlying attributes of the music he or she downloads. Armed with this insight, ChoiceStream determines the artists, albums, tracks and playlists which it thinks are best-suited to each member's particular tastes and interests.

Within the implicit personalization system are features called "Your New Arrivals" and "Dozens". "Your New Arrivals" provides personalized recommendations of both new releases and back catalogue music that is new to eMusic. "Dozens" are playlists from eMusic's award-winning curatorial staff. Spanning some 60 genres, Dozens represent the twelve most essential, important albums as selected by one of the foremost critics, musicians or authors immersed in that genre. These musical selections are surfaced precisely to those eMusic subscribers who are considered most likely to appreciate them.

When the Personalized Playlists are launched, they will have personalized lists of recommendations culled from an inventory of tens of thousands of playlists created by eMusic subscribers, eMusic's editorial staff and by the new eMusic Dozens.

David Pakman, president and CEO of eMusic, explains how their system works: "Other music services offer 'personalization' that's effectively 'If you like this, you'll also like that.' This results in recommendations that are 'more of the same' and far too focused on mainstream popular music. This is basic 1999-era functionality. At eMusic, we use ChoiceStream's vastly more advanced technology and couple that with the collective musical expertise of our more than 120 curators resulting in musical discovery across a more diverse catalog. We continue to out-innovate other services to redefine the state-of-the-art for music discovery. If you know what you want and need a music search engine, use iTunes. If you want to hear something new, use eMusic."

The ChoiceStream technology takes its own approach to analysing customer data. Instead of focusing on traditional collaborative filtering, clickstream or activity analysis techniques, (which ChoiceStream says are notoriously unreliable predictors of behavior and require extremely large volumes of data in order to make meaningful predictions), ChoiceStream focuses on understanding the underlying attributes of the content being personalized as well as each user's preferences for those attributes. Armed with this insight, ChoiceStream matches each individual with the content best suited to his particular tastes and preferences.

ChoiceStream says that its intelligent recommendation models learn across multiple sites and millions of users, continually improving in accuracy and relevance over time. Among the results of this is significantly greater product variety in recommendations, targeting profitable non-mainstream inventory.

This concept of matching diverse individual requirements is sometimes called the 'long tail', named after the shape of a graph showing sales per item. At the left of this graph will be a peak showing very high sales for a small number of items. Then the graph curves downward, reflecting slower sales of less popular items, until a long low line appears. This is the 'long tail' of the graph, where a very large number of customers buy a hugely varied list of products in small numbers.