Tommy Hilfiger Moves Into Customized Clothing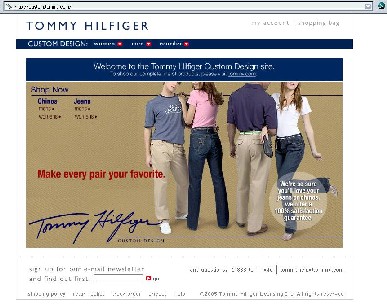 Image of the Tommy Hilfiger Custom Design website

2005-09-26 - New York, USA: Leading fashion clothing brand Tommy Hilfiger has begun offering customized clothing through its newly redesigned website. The Tommy Hilfiger Custom Design site sells chinos and jeans for men and women.

In the mens' range, there are three different basic jean styles, and two different types of chinos. The jeans are available in different 'washes' (degree of colour fade), and the chinos can be purchased in seven different colours. For women, similiar basic styles are available. In the case of both mens and womens jeans and chinos, many other features can be personalized, such as the positioning of labels, pocket designs, hardware metal and the type of opening on jean legs.

The Custom Design facility is part of an overall revamp of the Tommy Hilfiger website, (www.tommy.com) as a full-service e-commerce site. The company soft-launched online direct to consumer distribution late last year with golfwear, watches and fragrances. The product offerings on the redesigned site have expanded to represent the comprehensive Tommy Hilfiger lifestyle brand, including menswear, womenswear, childrenswear, related accessories, fragrance, and home products. The assortment will continue to grow over the coming months.

The custom design facility allows consumers to customize fit and style elements for select men's and women's chinos and denim styles. Developed in conjunction with Archetype Solutions, Inc., customers can customize everything from fit, to fabric color, to certain design elements according to his or her preferences. At each stage in the process, there is a detailed colour photograph showing the exact selection.

The new site will utilize two leading Microsoft products, Microsoft Commerce Server and Microsoft Axapta ERP, which create a seamless experience for the consumer from a front-end and back-end processing point of view.

The Custom Design System is, as yet, only available to customers in the U.S. It remains to be seen if the company will expand it to other markets.

When a customer completes an order, their sizing details are stored for future use. When they log in again, they can re-order any item that has previously been purchased. A major benefit for consumers is that any item ordered on the Custom Design site which does not fit can be returned for credit. If the items don't fit, the customer can revise their profile accordingly and reorder at no extra charge.