Market America Launches Fully Customizable Dietary Supplement
2005-10-14: Market America has introduced a customized dietary supplement, called 'Isotonix(R) Custom Cocktail'. The new custom cocktail gives customers the ability to design a custom blend of up to 10 Isotonix-brand supplements into a single 90-day supply.

The use of dietary supplements, and their benefits, is the subject of much discussion and debate among members of the medical profession and dieticians. This website strongly recommends that anyone considering the use of any dietary supplement should firstly discuss the the matter with a medical practitioner.

Market America say that their best-selling line of Isotonix-brand dietary supplements use an advanced, isotonic formula for maximum effectiveness through faster delivery. Creating the technology that would allow Market America's more than 1 million preferred customers to order a custom dietary supplement presented a set of significant challenges for the company. To accommodate over 3.6 million possible combinations, Market America developed a dual-purpose Internet-based technology.

"From a programming aspect, the sheer size of this was mind-boggling," said Kevin Buckman, information systems vice president. "Offering custom products is one thing, but when there are that many possible combinations, technology has only progressed so far. We had to build this from the ground up. We also had to keep in mind that we were dealing with nutritional supplements. So, we built in a method to actively monitor the customer's input and help provide a balanced nutritional blend." The ordering system includes a "Nutrition Guard" in the interface. As the system is dealing with dietary supplements, Market America had to create a means to prevent someone from designing a blend that might be unhealthy.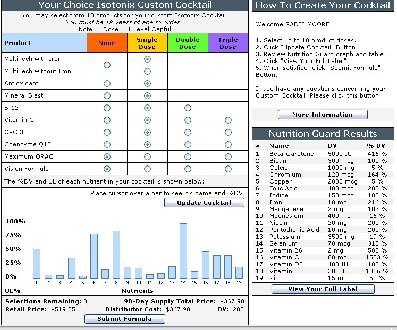 An image of the Isotonix Custom Cocktail ordering system interface, taken from the Market America website

The newly developed technology allows customers to choose from up to 10 Isotonix components while also receiving nutritional advice about their unique blend. As customers build their own Isotonix Custom Cocktail, a chart indicates the percentage Daily Value of essential vitamins and minerals, suggesting a well-rounded dietary supplement. Nineteen different vitamin/mineral components are monitored during the ordering process.

The idea for Isotonix Custom Cocktail sprang not from a marketing executive but from surveys of Market America's customers and independent distributors. The company has consistently used customer relationship management and data mining techniques to find out what its customers want and need.

"We continuously survey our customers for input," said James Ridinger, Market America's president and CEO. "We know that the majority of our customers take at least four Isotonix products daily. The vast majority of those we surveyed indicated that they wanted an all-in-one product. Isotonix Custom Cocktail is a direct result of our ongoing dialogue with our customers."

Market America's business model uses online selling and one-to-one marketing to sell innovative products and services through independent distributors around the world. The company applies the mass customization model to a number of other sectors, for example the iDesign range of customized clothing. The company has more than 110,000 independent distributors worldwide. In 2005, the company opened operations in Taiwan and plans further expansion into the Pacific Rim.