PhotoWorks Launches New Creation Process for Photo Books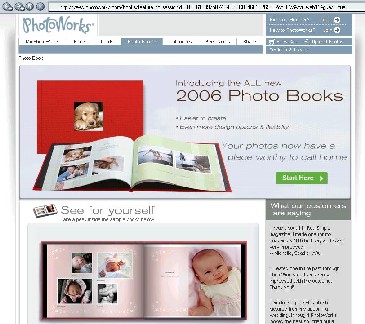 An image of the Custom Photo Book page on the PhotoWorks.com website

2005-10-28: Photography services supplier PhotoWorks(R), Inc. (OTCBB: PHTW) has upgraded its website so as to make it easier for customers to create hard bound photo books and designer greeting cards with their digital images.

"People are taking more digital pictures than ever, and those photos have much better purpose than staying in computers," said Philippe Sanchez, PhotoWorks' President and CEO. "In the last year, we've spent a lot of time working with our customers to understand what products inspire them and provide them with an even more compelling experience when making a photo book." Customers can pick their favourite style from 6 different books, 13 different colour options, and 10 designer background page design templates. In addition, there are over 35 different page layout options. This means that there are thousands of possible combinations of photo layouts and text pages for each Custom Photo Book.

The website is designed so as to have a single creation window, with all the components to building a photo book in the one place. The system has been built with an intuitive layout and a simple to understand structure. PhotoWorks say that they set out to avoid having a lot of confusing menus buried in the design process. They tried to have as many one click options available without cluttering the design space when the customer creates a photo book.

The photo book service is integrated with the other facilities on PhotoWorks.com, such as ordering prints from digital images, as well as use them in cards and keepsakes. For existing prints customers, their photos are already online and ready to be used in a book layout. PhotoWorks also scans all 35mm film that they develop and print. The company has a 25-year history of photographic services in conventional film and digital.

The entire books creation process takes place inside your Internet browser. Your photos and book project layout are stored entirely online. This allows you the flexibility to create your book from any computer at any time, or for multiple people to collaborate on a book from their own computers. The system is built as a Java-enabled web application, which behaves like a software application running on the customer's desktop. However, the entire books creation process takes place within the internet browser.

Featurs of the software include a photo editing facility, a drag-and-drop function for placing photos onto a page of the book, and options to place all the photos from a single album in the customer's account, or mix and match photos from different albums. Individual images can be used as many times as the customer wants.

Other options include adding captions to photos, and flexibility to change the layout of pages, re-ordering of pages in the book, and changing the design background.