OPEN Prototype Home - Building the Future
2005-08-31: A new approach to homebuilding in the U.S. is being developed by the Massachusetts Institute of Technology (MIT) Open Source Building Alliance (OSBA) and a New Hampshire construction company called Bensonwood Homes (BWH). This new system, named the OPEN Prototype Initiative, is intended to allow industrial partners to work together to create more efficient homes and components.

The main participants in the project have a considerable level of existing experience relating to the idea of building 'intelligent' homes. 'Intelligent' in this context does not just refer to computerised or automated functions. It refers also to the ease with which a building can be adapted to suit changing needs over the course of its lifespan.

The Open Source Building Alliance operates within the Department of Architecture at MIT. Current research focuses on strategies for creating responsive places of living using new design/fabrication strategies, defining system level standards for an open source approach to building design and construction, and developing ubiquitous sensing/computing technologies for buildings. The OSBA is headed by Kent Larson, who practised as an architect for 15 years in New York, and has written books and articles on various aspects of modern architecture.

He comments that "Academic research will only make a difference to the lives of people if industry can deploy the resulting innovations. Referring to the OPEN Prototype project, he says: "This collaboration of MIT researchers, manufacturing leaders, and Bensonwood Homes, an enlightened builder, may allow us to actually make a difference in the world."

Some of the OSBA's existing research is focused on on new approaches to building. The OSBA Chassis project, by Kent Larson and Jarmo Suominen, borrows from recent innovations in the automobile, electronics, aviation, and ship building industries. The researchers are developing concepts for creating buildings from an integrated "chassis" that can be rapidly and precisely installed with minimal field labor. One integrated assembly provides structure, ductwork, power, signal, plumbing connections, mechanical attachments for infill, HVAC systems, floor finishes, and ceiling finishes. At the point of sale, demising walls are added to create the size unit required, and the buyer then engages in a design process to define the interior design, systems, and services. The chassis provides the necessary physical, power, and signal connections for mass customized infill components to be quickly installed, replaced and upgraded without disruption.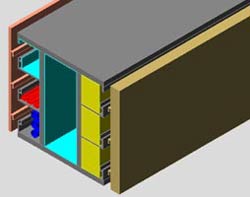 A cross-section of a beam designed as part of the OSBA Chassis project

Bensonwood Homes has been a leader in the development of buildings that disentangle the various systems which make up a completed structure. Over the last number of years, Bensonwood has used 'Open Building' principles in the design and construction of high-quality, energy-efficient homes. Open Building principles were first envisioned by John Habraken and others in Holland in the 1960's.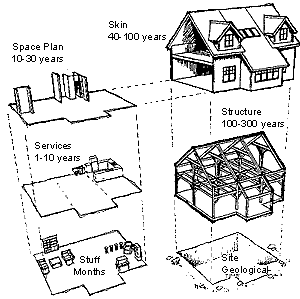 The Six S's concept

An Open Built home has a structure that can endure for centuries, while the infill (interior walls, wiring, plumbing) can be changed to suit changing needs over time. One of the basic premises of Open Building is that a building is made up of Six S's. These are Site (geological), Structure (lifespan 100-300 years), Skin (40-100 yrs.), Space Plan (10-30 yrs.), Services (1-10 yrs.), and finally 'Stuff' (lifespan of months). The aim of Open Building is to find principles of ordering and combining service sub-systems so that any conflict between them is minimised. The buildings major systems (the Six S's) are organised into layers with different lifespans. By clearly stating the interfaces between them, these 'disentangled' subsystems can be upgraded over time without altering or compromising the building's structure. The result is a more highly functional and cost efficient building over its expected lifespan. The Six S's concept is derived from ideas put forward by Stewart Brand in his work 'How Buildings Learn'(New York:Viking, 1994).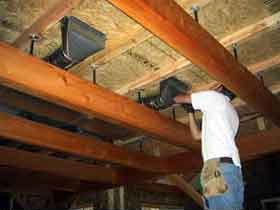 The Open Built Floor system, which has room for ducts and is as strong as traditional joists. This provides a good example of the type of 'disentangling' of systems which Open Built provides.

BWH is owned by Tedd Benson, who has been involved in the revival of timber framing construction since 1974. Benson co-wrote his first book on timber frame construction in 1980, and has since written three more. His articles have appeared in newspapers such as the Boston Globe, New York Times and Washington Post. He and the Bensonwood Homes company have appeared on numerous television shows in the U.S.

Bensonwood Homes and the OSBA are working to create and affiliation of industrial companies to fuel the growth of design, data, electronics, software, and physical components of contemporary home building. It is hoped that this approach will remove barriers to innovation, and create opportunities for efficient construction, energy conservation, proactive healthcare, new forms of work / learning / entertainment, and the mass customization of highly personalised residential environments.

The OPEN Prototype Initiative is embarking on an ambitious programme of building to further the develop its concepts. MIT will design, build and test a home every 18 months between Spring 2006 and continuing through 2010. The project is on target to complete the first home in Spring 2006, with one caveat, as Tedd Benson explains: "Yes, we are on target, though it is possible that we may be into summer if weather makes it difficult to get our foundation in early."

For someone living in a Western European country, where most buildings use concrete block cavity wall construction, the most surprising thing is the speed with which these prototypes will be completed: by minimizing field labour and maintaining very high quality design and construction criteria, each home will be completed in less that 30 days! This is not just for the main construction, but the full completion of a turn-key house. In fact, Tedd Benson mentions a construction period of 20 working days, but this does not include the foundation.

The first prototype, called OPEN_1, will be located on the grounds of the Crotched Mountain Rehabilitation Center in Greefield, New Hampshire. Crotched Mountain is a highly regarded organisation providing extensive rehabiliative, educational, clinical and support services. The prototype will be designed to respond to a wide range of physical and cognitive abilities of the centre's clients, reflecting the complexities of the future 'baby-boomer' U.S. housing market.

The goals for this first prototype house are:
- Design and construction will establish a varied collection of components that can be combined to form unique structures, linked directly to efficient prefabrication.
- The floor, wall and roof systems will be pre-built.
- The structure will consist of distinct, disentangled and accessible layers that allow for both efficient assembly and for change over time.
- The building shell, with exterior finish, will be assembled in five working days.

- Mechanical, electrical, and plumbing systems will be installed in three working days.

- Interior fit-out will be completed in five working days.
- Interior finishes will be completed in five working days.
- To host a symposium to evaluate OPEN_1, and to set the goals for OPEN_2.

Additional goals may be established through the involvement of industrial sponsors. Subsequent prototypes will be incrementally more ambitious, with specific goals established by the academic and industrial participants.

In the first and all of the subsequent homes, the multi-disciplinary team and industry partners will collaborate on the development of innovative design concepts, fabrication processes, and new home systems. Over the last sixty years, while other industries have advanced dramatically, homebuilding has remained relatively stagnant. It is planned that the OPEN Prototype project will construct homes built from highly engineered, integrated systems. These will be produced with advanced manufacturing processes - mirroring innovations found in other industries, from automotive to consumer electronics.

It is the design of new processes that presents the most significant potential obstacle to the rapid construction of the prototype houses. "The biggest worry for the first prototype getting finished on time is that most of the technology that will make efficient installation easier doesn't exist", says Tedd Benson. The project will have to devise prototype systems, which they hope will be developed over the next ten years.

At the completion of each prototype, a symposium will be held to discuss and evaluate the result, and to set increasingly challenging goals for the next prototype. OSBA will provide advanced academic research and Bensonwood will access the sophisticated design an production processes to build the homes.

While Open Building principles are not confined to any one method of building construction, in the case of the OPEN Prototype Home project, the principles are being applied to timberframe construction. Since the timberframe provides the structural strength needed in a building, two rooms can become one larger room, or vice versa. One example of an Open Building innovation being applied is the open web floor joist system. This makes floor plan changes like adding a bathroom far less costly, because new service pipes can be carried in modular ducting through pre-existing gaps that are designed into the building.

The term 'Timberframe construction' can mean different things in different countries. In Ireland, where this website is published, 'timber frame' is used to describe any wooden frame construction. This is not the case in the U.S. According to Tedd Benson, "We think of timberframe as heavy timber construction and stick frame (the more common American wood frame system)." However, OPEN Prototype is not dependent on timberframe construction. "The main factor for the viability of OPEN Prototype is the ability to pre-build wall, floor and roof sections off-site," says Benson. "This requirement definitely makes lighter frame methods more practical, but it doesn't mean that wood is the only material that can be used."

The principles used in Open Building, and that will be applied in the OPEN Prototype Initiative, provide a type of future-proofing for homes. As a home matures, virtually any subsystem can be installed or upgraded more easily. Systems like plumbing, heating, electrical, or telecommunications will continue to improve in years to come. By designing and building homes that account for this improvement, the cost of later modifications will be lowered. It is this inherent flexibility which makes the OPEN Prototype home an example of product personalization - it can be specified to exact requirements and built using modular systems to save costs and, in addition, it can also be re-specified according to changing user needs over time.

The OPEN Prototype project could be called open source building. The concept of open source intellectual property is most often associated with computer software, for example the Linux operating system. A worldwide user group carries out a constant stream of experiments and new ideas to advance the efficiency and effectiveness of Linux. Proposed changes are submitted for peer review and testing, and only those which achieve the required standard are admitted as part of the specification.

An interesting aside here is that there is an open standard for software which represents an 'operating system for buildings'. The Connected Open Building Automation (COBA) project, based in Finland, has participants from a number of different electronic equipment sectors, and is intended to allow different electronic components work with each other in a building management system.

In the overall design and construction of buildings, the OPEN Prototype home might be the precursor to an open source movement in the construction industry. Could a worldwide open source movement come about to develop new construction methods and technologies, with the work of the OSBA and the OPEN Prototype initiative forming a kernel for the standard? New ideas could be tried out on individual projects, and if successful in one location, be submitted for possible inclusion in the standard.

As with any open standard, the benefits would include an increase in construction efficency and a reduction in costs. There may be many instances where money is spent un-necessarily on resolving a particular problem. The waste occurs due to 're-inventing of the wheel' - devising different solutions in different locations to solve the same problem. An open source standard could provide World-wide savings in construction costs.

Such universal adoption of a unified standard is probably some way off. For now, OPEN Prototype participants are preparing for the completion of OPEN_1 in 2006. Hopefully the Spring will come early in New Hampshire.

Interested in personalization? Have your say in the Mass Customization and Personalization Forum